Credit Investors Shelter Behind Cash Wall as Rates Shred Returns
(Bloomberg) -- High-grade corporate credit is getting hammered by rising rates, but buyers running out of safe options to get yield are hoping for a rebound as demand outstrips supply.
"There's just a tremendous amount of cash on the sidelines," said Scott Kimball, co-head of U.S. fixed income at BMO Global Asset Management. "Whether rates are lower or rates are higher, there's a lot of money available," Kimball said in a telephone interview Wednesday.
That kind of move makes high-grade credit investors "afraid of catching a falling knife" and pushes issuers -- fearing they'll miss the boat -- to sell more debt, Bank of America Corp. strategists led by Hans Mikkelsen wrote in a note Tuesday. "Remain underweight IG," said the strategists, referring to high-grade U.S. debt.
However, investors are sanguine, following months of an almost uninterrupted flow of money into funds that buy the debt. 
"This should be an enticing moment for a lot of people that are looking to go purchase investment-grade," said Kimball.
Debt deemed to be investment grade has much higher duration -- a measure of sensitivity of a bond's price to interest-rate changes -- than junk bonds, and is on track for the worst total return since March, data compiled by Bloomberg show. However, according to Kimball, many buyers care more about absolute yield and may view higher rates as an opportunity to buy.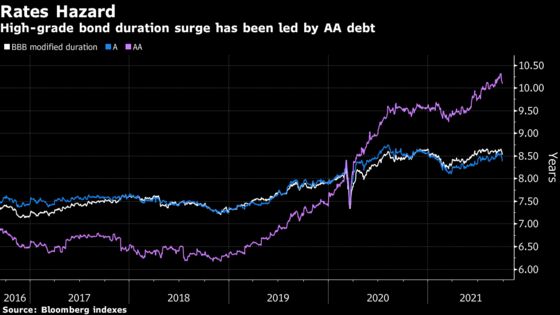 Higher U.S. yields compared to other parts of the world help attract overseas investors, according to Chris Forshner, head of high-grade finance at BNP Paribas SA. Foreign buyers, particularly life insurance companies with long-term liabilities, are buyers of debt with longer maturities, he said. That's against a backdrop of over $13 trillion of of negative-yielding debt globally.
This week's rates move will spur companies to "start being a little bit more proactive than they have been," said Forshner. He expects issuance to remain active through November, projecting as much as $1.4 trillion by year-end, from about $1.1 trillion already in 2021.
Five borrowers are looking to sell new U.S. investment-grade bonds on Wednesday. Monthly gross supply stood at $152 billion as of Tuesday, comfortably surpassing the $140 billion projected by an informal survey of primary dealers and within striking distance of the September record of $164 billion set last year.
Ahern Rentals Inc., a construction equipment rental company, shelved its sale of $550 million of U.S. junk bonds, according to a person with knowledge of the matter. The company cited market conditions for withdrawing the offering.

Others evidently had no trouble selling junk bonds: there were about 10 borrowers in the market and Medline's $7.77 billion LBO sale had orders equal to about three times the debt offered as of Tuesday

Marathon Asset Management is buying debt issued by troubled developer China Evergrande Group, according to the investment firm's co-founder and Chief Executive Officer Bruce Richards

Two holders of a China Evergrande Group dollar bond with a coupon due Wednesday said they hadn't received payment as of 9:30 p.m. Hong Kong time. Evergrande owes $45.2 million in interest on the note due 2024, according to data compiled by Bloomberg

Deutsche Bank AG is returning to trade credit-default swaps as it seeks to gain an edge over competitors in Europe and the U.S. in one of the hottest asset classes in credit markets
For deal updates, click here for the New Issue Monitor
For more, click here for the Credit Daybook Americas
Sterling-debt sales by corporates exceeded 2020's annual tally as borrowers rushed to secure ultra-cheap funding costs while they still can.
Fifteen issuers priced 17 tranches on Wednesday for 9 billion euro-equivalent ($10.4 billion), extending a busy week. They include American Tower Corp, Banco Comercial Portugues SA and Kommunekredit.
The European Stability Mechanism joined the pipeline, sending a Request for Proposal to banks with regards to a transaction scheduled for the week of Oct. 4
U.K. regulators may allow firms to continue using Libor for some contracts in limited circumstances after its planned end date, an effort to ensure the transition of trillions of dollars of contracts goes smoothly

The Financial Conduct Authority said Wednesday that it could allow dollar Libor to be used in new contracts beyond year-end for circumstances that include market making and hedging

Some of Europe's biggest asset managers are starting to drop a once-ubiquitous ESG label from their company filings amid concern that regulators will no longer tolerate vague descriptions
Two Asian issuers sought to price dollar bonds on Wednesday after markets turned risk-off amid renewed concerns about inflation and China Evergrande. 
A China local government agreed to buy a stake in a struggling regional bank from Evergrande, illustrating how authorities are taking steps to minimize any fallout to the banking system from the developer's debt crisis
Evergrande's long-term issuer default rating was downgraded by Fitch to C from CC
Spreads on Asian investment-grade dollar bonds were mixed, indicated at one basis point wider to one tighter, according to a trader
With some U.S. Treasury yields near their highest since early 2020, concerns about the near-term outlook for Asian dollar credits is growing