Cracks Appear as Manic Week Sees Traders Confront New Era
(Bloomberg) -- Mark the date: This looks like the week financial markets finally cracked in the fading era of ultra-easy liquidity conditions.
In the U.S. a putative bond bear market is gathering steam, adding a tailwind to the dollar and exposing the weakness of risk assets that until now had enjoyed the ride of easy money. Add to that external macro shocks -- emanating from the likes of Italy -- and in the past few days the fragility of markets in this new era was exposed.
For bulls who argue that synchronized growth and the business cycle will offset higher financing costs, the moves pose a direct challenge: Put up or shut up. And right now, it looks like they're still deciding which way to lean.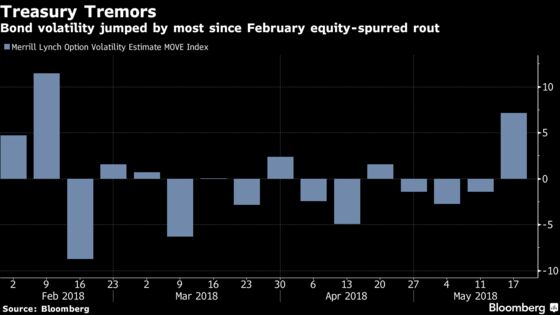 Underpinning this week's turmoil were U.S. Treasuries, which provide a benchmark for borrowing costs the world over. The 10-year Treasury yield broke through both its 2018 and 2014 highs in the span of minutes on Tuesday. The Merrill Option Volatility Estimate Index, which tracks the volatility of American government bonds, surged by the most since the equity-spurred turmoil of early February.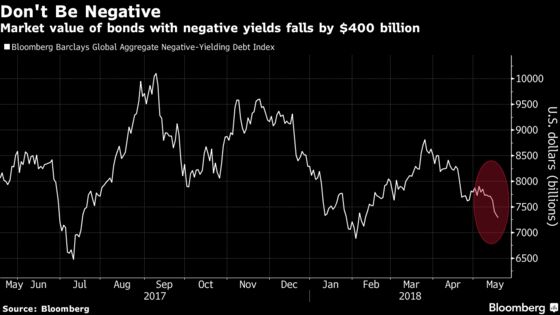 The jump in Treasury yields is making waves throughout global bond markets, which has helped slash the world's inventory of negative-yielding debt. The pool of bonds with sub-zero yields has shrunk by more than $400 billion since May 11.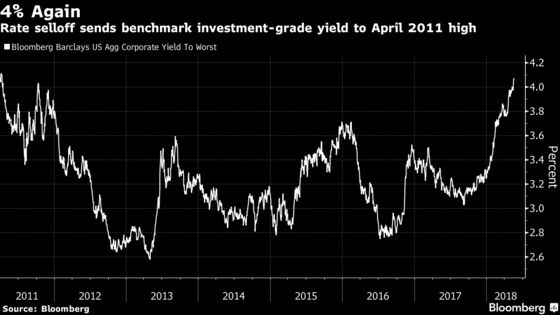 In credit markets, income has made a comeback. Investors can now gorge on yields at seven-year highs in the world's largest -- and most liquid -- high-grade corporate debt market.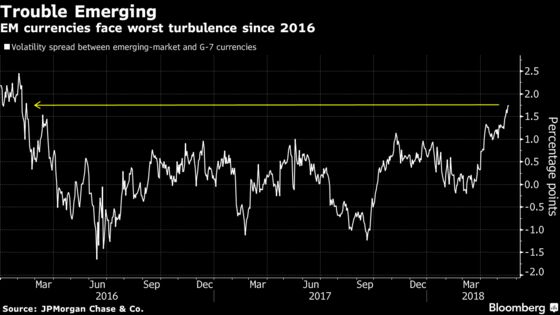 Emerging-market stocks started the week on the longest winning streak since January before blowing up on Tuesday. Currencies from developing nations fared no better, and on Friday were headed for a fifth day of declines -- the longest string of losses in almost nine months -- amid the relentless march of the dollar.
For a gauge of stress levels, take a look at emerging-market currency swings versus those of the Group of Seven. Developing-nation currencies haven't been this volatile on a relative basis in more than two years.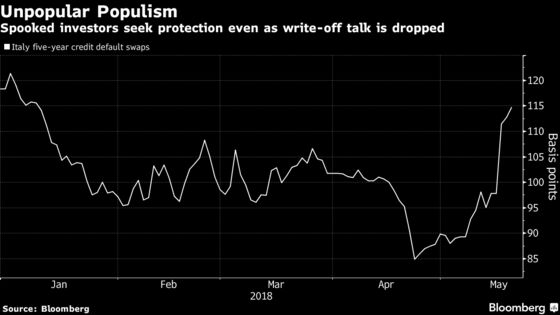 Having grown comfortable in the past few weeks with the prospect of a populist government in Italy as the major players toned down their extreme policies, investors were stunned when a draft agreement was leaked suggesting, among other things, a debt write-off. Bonds plunged and failed to recover, despite assurances those plans had been dropped.
Even the latest draft of the accord on Friday -- which did indeed ditch the write-off -- failed to halt a surge in demand for Italian credit-default swaps.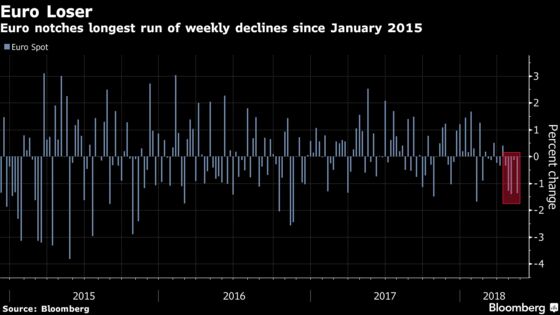 The Italian political risks compounded fears for the euro, which headed for its fifth straight weekly decline as traders fret over signs of easing growth in the region. German Chancellor Angela Merkel added to headwinds earlier in the week when she warned of the need for further reform of the EU.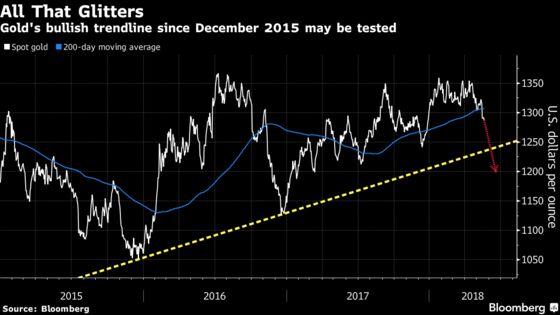 The increase in 10-year Treasury yields is damping demand for non-interest bearing precious metals, and gold has had a miserable week -- it's now languishing near this year's low, having crashed below its 200-day moving average and breached $1,300 an ounce for the first time this year. It's now threatening to test a bullish trendline that's held since 2015.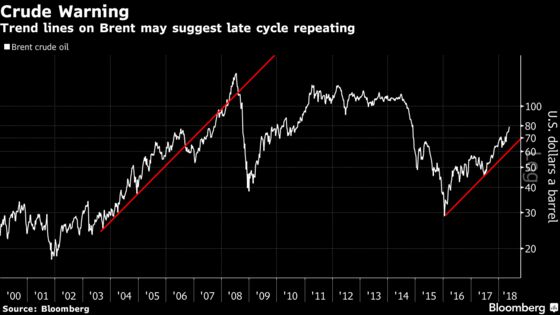 Gold isn't the only commodity in focus. Oil prices have been rising, and Brent crude -- a benchmark for half the world's oil -- topped $80 a barrel for the first time since 2014 on Thursday. It's a round number that can draw mid-2000s parallels and the late-cycle signal delivered by surging crude, according to Bloomberg's Markets Live editor Andrew Cinko.