Cowen Unit Buys Stake in Mobile Phones Reseller From Apollo Funds
(Bloomberg) -- Cowen Inc.'s sustainable investment unit agreed to buy a minority stake in ecoATM, a kiosk operator that resells mobile phones, for $200 million.
Cowen Sustainable Advisors is purchasing the stake from funds managed by Apollo Global Management Inc., according to a company statement. Apollo will remain the majority owner of ecoATM, and its chief executive officer, Dave Maquera, will continue to run the company.
EcoATM operates more than 4,300 automated kiosks in retail locations in the U.S. and Europe where customers can sell their mobile phones for cash. Those devices are then reused by consumers globally, according to the statement. EcoATM generates revenue by reselling the old phones to wholesalers, certified recyclers and retail customers through its website and other online marketplaces.
"The mobile phone industry hasn't been paying attention to the waste they cause," Maquera said in a telephone interview. "Instead of waiting for industries to do something, individual consumers are empowered to make an impact instead."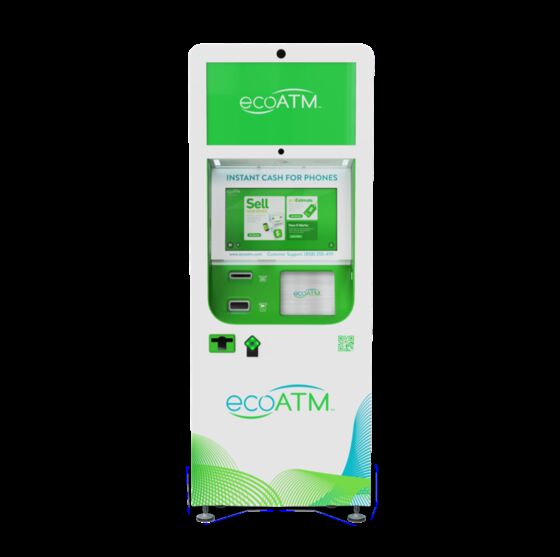 About 60 million mobile phones are discarded in the U.S. every year without being reused or recycled, New York-based Cowen said in the statement. EcoATM plans to expand in Europe, develop new technologies and channels to encourage customers to sell their old devices in a bid to protect the planet from the harmful impacts of e-waste and smartphone manufacturing, Cowen said.
"EcoATM has a significant economic, environmental and social value proposition given that it extends the useful lives of mobile phones while creating affordable mobile access for the growing world population," said Ewa Kozicz, who co-runs Cowen Sustainable Advisors. "By enabling phone reuse and reducing manufacture of new phones, we believe that the Company can prevent the generation of substantial amounts of greenhouse gas emissions each year."
Kozicz, who runs Cowen's sustainable group with Vusal Najafov, will join ecoATM's board. The transaction is expected to close later this month.
Apollo bought ecoATM in 2016, and by investing in technology and distribution, ecoATM has more doubled the number of phones it sells annually to about 6.5 million, according to Apollo Partner Reed Rayman.
"Most of our day job is investing in very large, mature businesses, but we identified ecoATM as a company with a lot of growth potential and alignment with our ESG goals," Rayman said.