Country Garden Services to Raise $1 Billion in Placement
(Bloomberg) -- Property management company Country Garden Services Holdings Co. is looking to raise HK$8 billion ($1.03 billion) through a share sale, the latest Chinese real estate firm to tap equity markets amid a liquidity crunch engulfing the sector.
Country Garden Services will sell 150 million shares at HK$53.35 each, a 9.5% discount to Wednesday's closing price of HK$58.95, according to terms of the deal obtained by Bloomberg News. The funds will be used for future acquisition opportunities, new business development and general corporate purposes, the terms show.
The company's shares were suspended from trading earlier on Thursday. Those of Country Garden Holdings Co. slid as much as 6.2% in Hong Kong before paring some of those losses.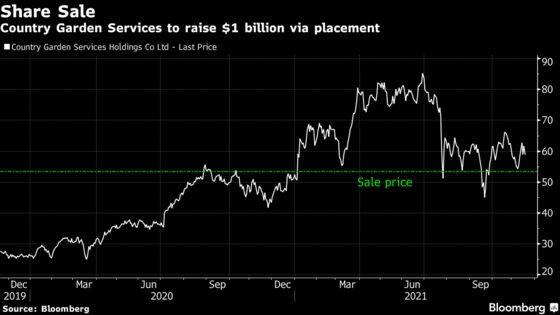 China's real estate sector has been roiled by China Evergrande Group's liquidity troubles, though property management firms like Country Garden Services have been somewhat insulated from the turmoil. Beijing's campaign to rein in property speculation and high leverage has caused a historic liquidity squeeze for developers, which have been rushing to raise funds through any means possible.
"We are going to be seeing more of a scramble for capital in the near term, as the whole China Evergrande issue is bringing greater scrutiny from both regulators and investors on property developers' liquidity challenges," said Jun Rong Yeap, a market strategist at IG Asia Pte. 
China Evergrande on Thursday said it planned to sell its entire 18% stake in internet services firm HengTen Networks Group Ltd. for $273 million, the latest asset disposal by the debt-stricken property giant. The sale represents a discount of about 24% to HengTen's close on Wednesday.
"Along with the tight timeline for several property developers on their bond repayments, massive discounts for asset sales may continue out of 'desperation'," Yeap added.
READ: Evergrande's HengTen Plan Signals Fire Sales by China Builders
While there are nascent signs of a thaw in the onshore credit market for some real estate companies, the dollar bond market remains shut for many borrowers, which have been resorting to issuing equity instead.
Last week Sunac China Holdings Ltd. issued shares at a more than 10% discount and borrowed $450 million from its billionaire founder, in addition to selling a stake in its property management unit. Agile Group Holdings Ltd. will raise $311 million through the sale of bonds exchangeable into shares of A-Living Smart City Services Co., it said on Thursday.
A-Living's stock plunged as much as 13% to a two-year low. Sunac has also dropped about 6% from the share placement price.
Mergers and acquisitions have also gathered pace among property management firms, which provide butler-like concierge services at the millions of condominiums in China. There have been more than 40 transactions announced since July, pushing the combined deal value to more than 20 billion yuan ($3.1 billion), according to property consulting firm China Real Estate Information Corp.
Country Garden Services has been a frequent buyer, spending more than 19 billion yuan on acquisitions this year, according to CRIC. In September, it agreed to purchase a firm holding a rival services provider affiliated to Guangzhou R&F Properties Co. for as much as 10 billion yuan. In the same month, it planned to acquire Fantasia Holdings Group Co.'s services arm for as much as 3.3 billion yuan.
READ: Country Garden Services' Share Sale to Fuel Acquisitions: React
UBS Group AG, Citigroup Inc. and China International Capital Corp. are joint bookrunners for Country Garden Services' share sale. There is a 90-day lockup on the company as well as its major shareholder.
Yang Huiyan, Co-Chairman of Country Garden Holdings and a daughter of the developer's founder, holds the biggest stake in the services company.