Coupon Due Friday; Kaisa Faces Record Plunge: Evergrande Update
(Bloomberg) -- Focus is turning to whether China Evergrande Group will stave off default again this week, as creditors prepare to negotiate a debt restructuring that would rank among the largest ever in China.
The developer is due to pay a $45.17 million bond coupon originally due Sept. 29 by Friday, when a 30-day grace period expires. Evergrande last week avoided default on a larger interest payment by wiring the funds days before a Saturday deadline. It still has $19.2 billion in outstanding dollar bonds and more than $300 billion in liabilities.
Failure to pay may trigger cross defaults on some of the company's notes. China has this week urged developers to make payments on their offshore bonds, and asked Evergrande's billionaire founder Hui Ka Yan to tap his personal wealth to help solve the company's deepening debt crisis. 
Prices for China high-yield dollar bonds fell about 1 cent on the dollar Thursday, according to traders. Notes issued by two smaller developers fell after credit-risk assessors flagged liquidity risks and downgraded their ratings. Shares of Kaisa Group Holdings Ltd. lost as much as 20%, on track for the worst day on record. Evergrande dropped as much as 6.7%.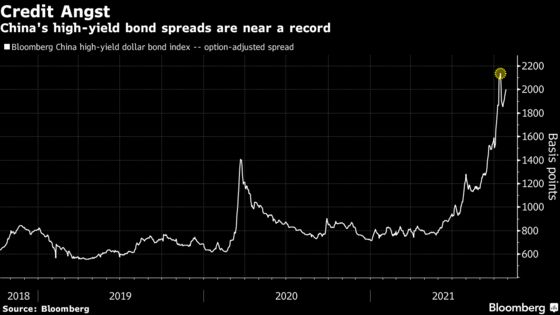 Fitch Downgrades Yango, Bond Halted (1:44 p.m. HK)
Trading of Yango Group Co.'s 6.67% yuan bond due 2025 was suspended for 30 minutes in Shenzhen after a 20% plunge. Fitch Ratings downgraded the issuer on Thursday due to uncertainty over its liquidity and sales prospects in a property-market slowdown. 
The developer in September sent a notice to investors to deny "rumors in the market that our trust and commercial bills are overdue," saying that "existing trust loans and other debts are paid normally." 
Fantasia Creditors to Meet (12:32 p.m. HK)
Holders of at least two Fantasia Holdings Group Co. yuan bonds will vote on a proposal urging the company to improve its credit metrics, according to a statement. Proposed measures include asking Fantasia to pledge more assets as collateral. Fantasia can ultimately decide whether to implement the measures regardless of the Nov. 10 vote outcome.
Fantasia shocked investors this month when it failed to repay a $205.7 million bond, despite previously signaling that it had sufficient working capital and no liquidity issues.
Kaisa Sinks to Record Low (11:40 a.m. HK)
Kaisa shares sank to a record intraday low, while its note due December fell below 50 cents on the dollar on Thursday. Kaisa is notable for being the first Chinese developer to default on a dollar bond, back in 2015.
Central Bank Injects Funds (9:25 a.m. HK)
China's central bank injected liquidity into the banking system for a seventh day. The People's Bank of China, which offered a net 100 billion yuan ($15.6 billion) in short-term funding to banks on Thursday, has now injected a net 850 billion yuan into the financial system over seven days. That reverses a trend earlier in October where it was draining liquidity. 
Fitch, S&P Downgrade Kaisa (8 a.m. HK)
Kaisa was downgraded two notches by S&P Global Ratings and Fitch to CCC+ from B on Wednesday, with both credit assessors warning about the Chinese developer's ability to refinance dollar bonds maturing through 2022. Moody's Investors Service last week cut the firm to B2 from B1.
Bulls Pile Into China's Markets (4 a.m. HK)
Being bullish on Chinese financial markets is becoming the consensus. This month alone, brokerages including HSBC Holdings Plc, Nomura Holdings Inc. and UBS Group AG turned positive on Chinese stocks, citing reasons including cheap valuations and a receding fear of regulation from Beijing. 
Asset managers BlackRock Inc. and Fidelity International Ltd. are buyers, while Morgan Stanley recommended owning the nation's speculative-grade debt because prices had fallen too far. Betting on a strengthening yuan is a no-brainer to many currency analysts.
Evergrande, Bondholder Advisers Take Step Toward Talks (4 p.m. NY)
Advisers representing Evergrande and a group of its offshore bondholders have signed non-disclosure agreements in preparation for potential talks, people familiar with the matter said. Creditors have been trying to engage with Evergrande since mid-September, sending letters asking for information about the company's situation and seeking assurances that management won't sell offshore assets while debt solutions are being discussed. 
Dollar bonds 
Coupon due date

Amount

(million dollars)

EVERRE 9.5% due 2024
Sept. 29
45.17
EVERRE 9.5% due 2022
Oct. 11
68.88
EVERRE 10% due 2023
Oct. 11
42.5
EVERRE 10.5% due 2024
Oct. 11
36.75
TIANHL 13% due 2022
Nov. 6
41.93
TIANHL 13.75% due 2023
Nov. 6
40.56