Costly U.S. Stocks Outshine Europe for This $10 Billion Investor
(Bloomberg) -- There are solid reasons for U.S. equities to be pricier than their European peers, according to Prague-based CSOB Asset Management AS.
The Czech investment arm of KBC Groep NV sees the premium as justified because of U.S. stocks' superior profitability and stronger resilience to trade-war risks, said Ales Prandstetter, its chief strategist. CSOB oversees the equivalent of $10.25 billion, about a third of which is in equities.
"U.S. stocks still fundamentally make sense to us, despite the high valuations," he said in an interview days after the S&P 500 Index's latest all-time high. "Europe is comparatively cheap, but we don't see a trigger for a major repricing. It might come when the European Central Bank starts raising rates, and this finally lifts margins for the financial industry."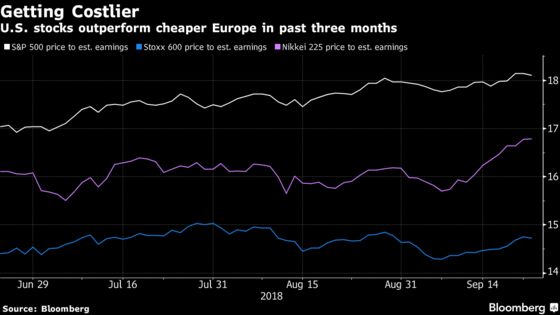 CSOB is slightly overweight North America, neutral Japan, neutral to underweight Europe, underweight Asia Pacific

Most negative on U.K. because of Brexit risks, and emerging markets because Fed rate hikes are increasing debt burden for companies, individuals, and governments; expects more "significant turbulence" in Turkey, which could sour sentiment toward other EMs

Overweight consumer discretionary, financials, and information technology; underweight consumer staples and utilities