Cost Anxieties Are Being Fanned Everywhere in the Stock Market 
(Bloomberg) -- One bad dream for stock bulls is that something in the economy starts driving up corporate costs, torpedoing the earnings miracle behind the rally. Signs of it are multiplying.
The evidence varies from sector to sector, from rising labor and transportation costs to higher prices for raw materials to expenses associated with tariffs on China-sourced goods. At least three companies warned of weaker profit margins this week: construction suppliers Fastenal Co., PPG Industries Inc., chemical manufacturer Trinseo SA.
Many things are to blame. The trade war between the U.S. and China. Higher interest rates that increase borrowing costs. Rising labor and raw material prices. Increased transportation costs. It's easy to see why analysts are paying a special attention to companies' guidance of profit margins this earnings season.
"Margins appear to be the biggest risk to the third quarter earnings season for the S&P 500, with analysts paring gross margin forecasts since the end of 2017 and operating targets starting to turn lower, which is problematic for the index trend," said Gina Martin-Adams, chief equity strategist at Bloomberg Intelligence. "Consumer and materials sectors should get squeezed most, while energy and industrials can pass along costs."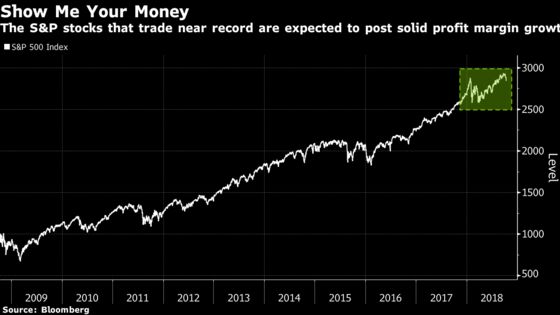 Looking at forecasts issued by S&P 500 companies last month, Bank of America found that more than twice as many profit margin projections were below the Wall Street consensus than above. That's the biggest difference in 2 1/2 years, according to Jill Carey Hall, equity strategist at the bank's Merrill Lynch unit.
Punishment has been swift in the market. Fastenal is down 5.6 percent after saying gross margins in the third quarter fell 100 basis points year-over-year. PPG sank 10 percent rout on Tuesday after preliminary results boosted concern the company may need more time to improve profit margins. That pushed the S&P Materials Index, the worst performer in the measure this year, down 1.7 percent. Trinseo plunged 18 percent in its biggest one-day slide since its debut in 2014.