There's Nowhere to Hide in U.S. Markets as Correlation Breaks Down
(Bloomberg) -- The correlation breakdown that's vexing diversified investors was on full display across U.S. financial markets Wednesday.
The S&P 500 Index fell 1.5 percent and the 30-year Treasury yield was higher, which has only happened four times since the start of 2016, according to Peter Tchir, head of macro strategy at Academy Securities Inc.
And the last time this happened, according to Tchir, was on either side of the volatility fiasco in February.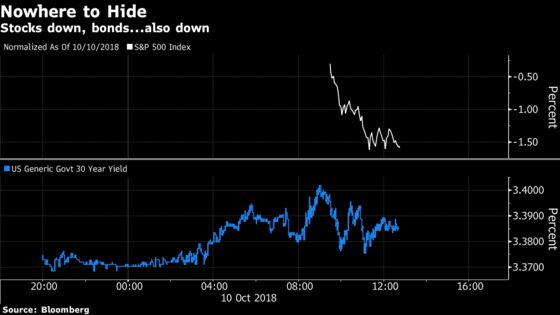 The 52-week correlation between changes in the iShares 20+ Year Treasury Bond ETF, known by the ticker TLT, and the S&P 500 Index is the most positive on record. Its previous foray into positive territory was 2006.
This lack of safe havens affects even the most sophisticated portfolio structures -- like risk-parity strategies -- and the simple plain vanilla 60/40 mix of stocks and bonds alike.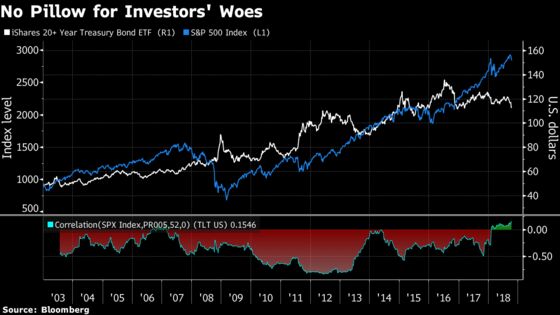 The recent sell-off in bonds "looks innocuous at first blush" but is "actually terrifying," adds Ian Pollick, head of North American rates strategy at CIBC.
Nearly all of the move higher in rates is attributable to rising inflation-adjusted yields and in particular the term premium, the extra compensation investors demand for holding longer-dated debt, which is a component of yields that's relatively global in nature.
"If tomorrow's inflation data is firm, inflation premia can begin to rebuild and exacerbate the recent momentum," he writes. "The clear risk is that the incoming data does not decelerate and momentum selling begins to dominate what was initially a fundamentally driven move."