Worst Reversal Since 2015 Leaves S&P 500 at Correction's Door
(Bloomberg) -- Stability in share prices again proved fleeting as U.S. stocks staged their sharpest reversal in three years, leaving the S&P 500 at the precipice of its second 10 percent correction of 2018.
While traders said tariff threats were behind Monday's drop, the benchmark has now fallen in eight of the last nine days in some of the steadiest selling since 2016. Stocks spent most of the last hour in correction territory before jumping above the threshold at the close.
"Technically it's a disaster," said Robert Parks, managing director in equity derivatives at RJ O'Brien and Associates LLC. "With rates rising, trade talks, the longest bull market in history -- the market is coming back to Earth."
After falling as much as 2.1 percent earlier, the S&P 500 ended down 0.7 percent at 2,641.06, leaving it 9.88 percent below its Sept. 20 record. The retreat was again led by companies with the highest valuations, another sign investors are fleeing the technology and consumer shares that have led the decade-long bull market. Utilities and household-product makers rose as buyers flocked to companies with the least exposure to the economic cycle.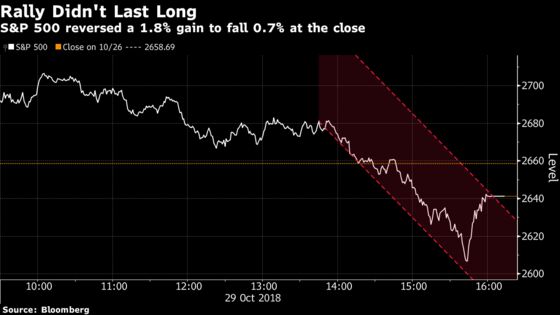 The S&P 500 and Nasdaq 100 wiped out gains that topped 1.7 percent, sending them to the biggest reversals since August 2015. A day that started well for the bulls lost momentum after the U.K. government proposed a digital services tax that targets companies like Alphabet and Facebook. It got worse after the U.S. was said to be preparing to announce tariffs by early December on all remaining Chinese imports if talks next month between presidents Donald Trump and Xi Jinping fail to ease the trade war.
In the end, the session reprised a familiar theme of October, in which few rallies have held up. Of particular concern to bulls is the inability of valuations to stem the pressure. The Nasdaq 100 has seen its price-earnings ratio drop from almost 28 in March to 22.4 now, roughly its level in March 2016, where a 65 percent rally began.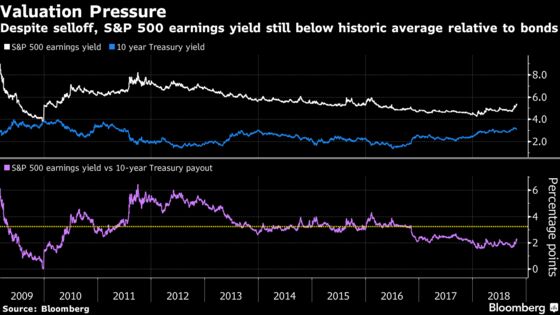 Other valuation models paint a more extreme picture. One compares equity and bond market valuations, plotting corporate profits against Treasury rates. While the decline in stocks has pushed the S&P 500's earnings yield 2.3 percentage points above the payout from 10-year Treasuries, the highest in a year, it's still below the average gap of 3.2 points seen since the bull market began in March 2009. Returning to that mean would imply another 14 percent drop, everything else equal.
The market's lack of resilience may reflect sales -- forced or otherwise -- by professional money managers who have seen their favorite stocks repeatedly walloped. Data last week showed that equity long-short hedge funds were nursing losses in October that were significantly worse than the broader market, swelling to almost 9 percent as of six days ago.
An exchange-traded fund by Goldman Sachs that holds the most loved stocks in hedge fund portfolios is on pace for its worst month since the exchange-traded fund's inception in 2016. The communication services sector has the highest allocation, followed by financials and information technology, with Apple, Microsoft, Netflix, Alphabet, Amazon, and Facebook all making the cut.
"The buyers are not confident, they're not buying dips and the sellers are in charge," said Chris Zaccarelli, chief investment officer at the Independent Advisor Alliance, who said headlines about President Donald Trump's latest trade threats against China touched off today's tumble. "Out of all the fears out there, that's the one sticking most in people's minds in terms of a reluctance to believe the economy is going to continue to be strong."
Hopes that results from megacap tech would bolster the market were dashed last week, when Alphabet and Amazon reported disappointing revenue growth. Facebook is scheduled to report tomorrow, followed by Apple Thursday.
One by one, things that used to support the market are falling flat. Earnings season was supposed to the be a catalyst but has gone largely unnoticed by traders. Persistent declines have pushed the S&P 500 through previous support levels. Signs the economy is booming are now being viewed as signs it is peaking.
"There's a not-so-faint scent of desperation," said Christopher Harvey, head of equity strategy at Wells Fargo. "No catalysts left, Fed action will doom the market, trade will only get worse."