Cornell, Stanford Fund Values Rise on Private Equity Bets
(Bloomberg) -- Cornell University's endowment posted a 10.6 percent investment gain, a performance that landed it at the lower end among its Ivy League peers -- but still outpaced Harvard University.
The value of Cornell's fund rose to a record $7.2 billion as of June 30, the school in Ithaca, New York, said Wednesday in a statement.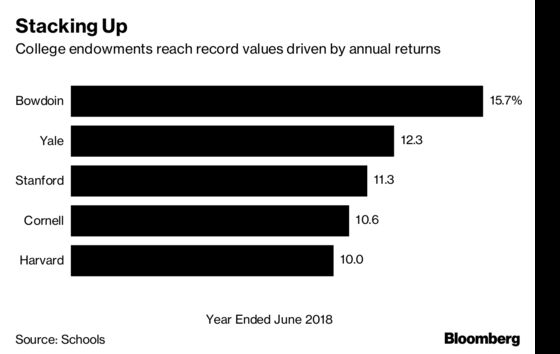 Cornell, like a number of schools, said its performance was boosted by investments in private equity and global equities. Stanford University's fund posted an investment gain of 11.3 percent, bolstered by private equity and public stocks, Robert Wallace, chief executive officer of the Stanford Management Co., said Thursday in a statement. The endowment reached $26.5 billion.
"Performance in illiquid asset classes, including private equity, was strong in absolute terms but trailed our expectations in relative terms," Wallace said. "Our efforts to reposition the illiquid asset classes are still in early stages and will require more time to complete."
In the past year, Cornell said its endowment has made changes to its portfolio strategy and management, including revamping its benchmarks, strategic asset allocation, managerial lineup, operational capabilities and informational systems.
"Following deep-dive reviews, we've implemented an interrelated set of initiatives aimed at improving the portfolio's strength and resiliency, and those began to come to fruition in fiscal year 2018," Kenneth Miranda, the fund's chief investment officer, said in the statement.
The median gain for fiscal 2018 was 8.3 percent gain for 143 endowments of all sizes, according to data by Cambridge Associates.