Corn Futures Touch Fresh 7-Year High on Roaring China Demand
(Bloomberg) -- Corn prices in Chicago reached a seven-year high with China's appetite for the grain stoking global supply concerns.
The U.S. Department of Agriculture on Wednesday unveiled corn export sales to China of 680,000 tons, as well as 132,000 tons of soybeans. That's on top of a 1.36-million-ton corn export sale to China reported Tuesday, marking the Asian country's largest one-day purchase from the U.S. since July.
China is buying up record amounts of American corn to feed a hog herd recovering from African swine flu. The purchasing spree has rocketed the crop to multiyear highs, raising concerns about higher food prices. Money managers have been betting on a rally, with bullish wagers on corn near the highest in a decade.
A rise in open interest suggests "new money flow returning to the marketplace," Matt Campbell, risk-management consultant at StoneX in West Des Moines, Iowa, said in an email.
Benchmark corn futures rose 0.1% to $5.33 a bushel at 11:46 a.m. in Chicago. Earlier, prices fluctuated between losses and a 2.2% jump to $5.4375 a bushel, the highest since 2013. Prices were already up 10% this year through Tuesday.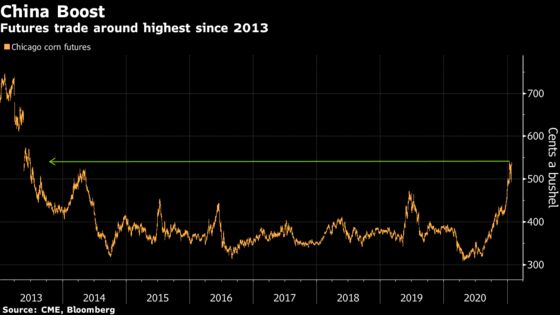 Read More: Crop Trader ADM Expects Tight Grain Supplies for Up to Two Years
In other Chicago crop markets, soybeans climbed as much as 1.8%. Wheat fell.
Soybean futures have been supported by China seeking more U.S. beans after top exporter Brazil suffered dry conditions that delayed planting and then downpours that slowed harvesting. Trucker protests over pay have also caused delays at a key export hub in Argentina, a key supplier of oilseed products.
Further, Brazil's National Confederation of Transport and Logistics Workers is advising its 800,000 trucker members to join a national strike on Feb. 1.
The potential transport disruption could mean delay in soybean shipments from Brazil and prompt more U.S. export demand, further squeezing already tight inventory.