Copper Transfixed by Currency Swings With Record Link to Yuan
(Bloomberg) -- As copper plunged into a bear market this month, the metal's fortunes look tied more firmly than ever to China's.
Fears that Turkey's economic crisis will spread to other emerging markets triggered a sell-off, bringing an end to an almost two-year bull-run for copper. The metal's correlation to the yuan hit record levels, underlining the vital role played by China's currency -- and its powerhouse industrial base -- in the outlook for all base metals.
"Metals are just currently being driven almost exclusively by currency markets," Guy Wolf, global head of market analytics at Marex Spectron, said by phone from Singapore. "The correlation is there because all of these assets are being dragged down by the same macro factors."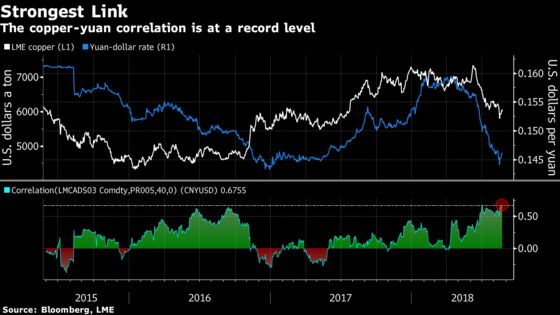 The strength of the yuan is vital for importers of raw materials in China, by far the world's largest consumer of industrial metals. But as recently as April, there was no meaningful correlation with copper, as other factors -- such as global manufacturing growth and the outlook for electric vehicles -- gave investors bigger reasons to buy. The link between the two is now returning as the yuan trades near the lowest in 19 months and copper hovers around $6,000 a ton on the London Metal Exchange.
Adding to copper's woes, the Chilean peso has also been slumping. That's lowering labor costs in the world's top producer and creating an incentive for miners to ramp up output, Wolf said. "The fundamentals for copper are fine, but if currencies continue to make it more expensive for China to buy and more attractive for Chileans to export, it's only going to play out one way."
While a weaker yuan makes metals more expensive, as most are priced in dollars, it can help China meet growth targets by lowering key costs like labor for the country's manufacturers as the country seeks to weather a trade war with the U.S. Still, analysts at JPMorgan say there are limits to how far the government will let the currency fall, and they see the country relying more on looser lending and lower taxes to boost demand.
"The support so far hasn't been massive like it was in 2008, but the government is fully aware they need some level of stimulus," Xiao Fu, head of global commodities strategy at BOCI Global Commodities UK Ltd., said by phone from London. "If we see that support feeding through into the Chinese economy, that could trigger some short-covering in metals."
At that point, the fortunes of the yuan and copper may start to diverge again, as metal prices rally and policymakers ensure that the currency stays put, Marex Spectron's Wolf said.
"At some point soon the correlation's going to break down rapidly, because the yuan has probably weakened as much as China wants it to weaken," he said. "I'm very confident that at the end of the year copper will be higher, but timing the exact moment that we'll hit the low is difficult given all the short-term uncertainty in the macro environment."