Copper Hovers Near Six-Year High on Chinese Demand Outlook
(Bloomberg) -- Copper closed near its highest price since 2014 as investors weighed robust demand from China against U.S. jobless data and the long-term effects of the pandemic.
Strong demand from the world's top copper consumer has put the market on track for a deficit when global copper inventories are at the lowest since 2014. China will likely return to a more "proper" range of economic development next year, Premier Li Keqiang said Tuesday, indicating a strong rebound in growth after this year's pandemic slump as the Asian nation continues to lead the global economic recovery.
"We expect the economic recovery in 2021 to benefit metals demand," Citigroup analyst Ephrem Ravi said in an emailed note. "Late-cycle metals prices should outperform as improving demand meets with already high utilization and low inventory."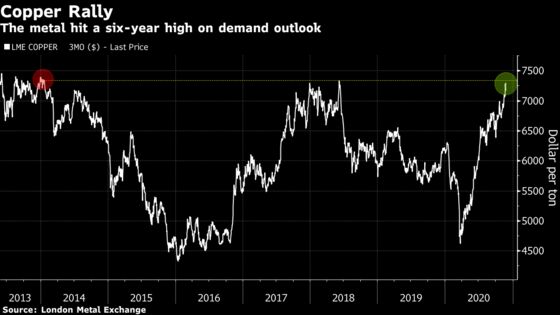 A wave of bullish factors propelled copper almost 60% higher from a March low, with a weaker dollar and recent promising vaccine developments setting prices up for an eighth monthly gain, its longest rally since 2011.
With the outlook for growth brightening, copper has the strongest fundamental footing among base metals, with prices likely to top $8,000 a ton next year, according to Bank of America Merrill Lynch.
The metal's key role in the renewable energy transition is likely to fuel increasing consumption, with Jefferies LLC warning of "unmanageable" global deficits in coming years.
The formal start of President-elect Joe Biden's transition has reduced political uncertainty, and positive vaccine news is driving optimism that global growth will recover from this year's pandemic-driven hit. Biden's pledges to boost spending on copper-heavy renewable energy and electric-vehicle infrastructure have bolstered sentiment further.
Some predict a pullback in prices of the industrial metal despite strong demand. The U.S. saw applications for state jobless benefits unexpectedly rise in the first back-to-back increase since July, according to a report Wednesday, indicating that surging cases and increased restrictions are fueling a new wave of layoffs. A dimming U.S. economic outlook and surge in coronavirus infections worldwide indicate progress on vaccines may not be enough to offset economic repercussions of the ongoing pandemic.
"Copper has been overbought for several days now," ED&F Man Capital analyst Edward Meir said in a phone interview. "It's been due for a pullback because there's nothing really new in the market to drive it further. I'm not sure how much higher we can go and we expect there will be some rollback in prices as U.S. growth stalls."
Prices hit a six-year high of $7,360 a ton in early trading on the London Metal Exchange before closing at $7,300 by 5:51 p.m. in London.
"This is what traders want to see," StoneX analyst Michael Cuoco says over the phone. "Copper is building a foundation above $7,000 which will allow the metal to go on to new highs."