Copper Shrugs Off Trade Tensions to Climb on Robust Demand
(Bloomberg) -- Copper rebounded on speculation that demand will continue to grow even as Beijing plans to strike back after the U.S. announced fresh tariffs on Chinese goods.
London Metal Exchange copper rose as much as 2.9 percent and mining equities climbed on bets that the escalating trade war won't derail the global expansion. The metal also gained on optimism that the application of broader U.S. tariffs next week will prompt China to invest more heavily in areas like infrastructure to shore up its domestic economy.
The Trump administration said late on Monday it will impose a 10 percent tariff on about $200 billion of Chinese products, followed by a planned step-up to a 25 percent rate from next year. The U.S. will immediately pursue further tariffs on about $267 billion of imports if Beijing retaliates, President Donald Trump said. On Tuesday, China said retaliatory levies will take effect Sept. 24.
"The decision to opt for 10 percent tariffs rather than 25 percent straight off the bat potentially opens a window for negotiating away this set of tariffs," Nicholas Snowdon, a metals analyst at Deutsche Bank AG, said by phone from London. "China's response almost immediately suggests this isn't necessarily going to be a juncture after which things will improve."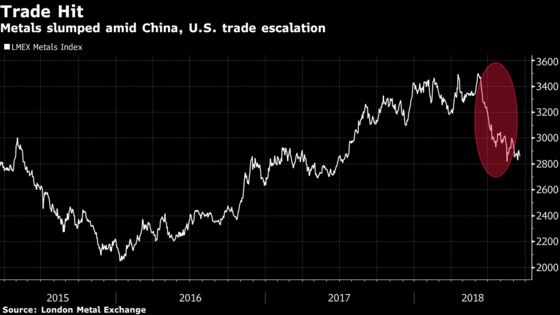 Industrial metals have been battered in the last few months by concerns about the worsening trade war. Yet even as the crisis deepens, copper inventories have been falling on the LME, with global stockpiles dropping to the lowest since December 2016. The premium paid by copper buyers in China's Yangshan port is at the highest in almost three years in a sign that demand in the top-consuming country remains strong.
LME copper rose 2.4 percent to settle at $6,086 a metric ton at 5:51 p.m. in London. Zinc advanced 1.3 percent, reversing an early slump. Nickel was up 1.3 percent, while aluminum gained 0.1 percent.