Convertible Bonds Find Their Sweet Spot
(Bloomberg Opinion) -- Convertible bonds are the best asset class that no one knows about.
Or so says Tracy Maitland, president and chief investment officer of Advent Capital Management. During an interview in his midtown Manhattan office overlooking Central Park, he extolled the ability of the securities — which can be swapped for shares at specified prices — to provide equity-like returns during a stock-market rally while behaving more like fixed income during any risk-off episodes. It's certainly not the first time he or other investors who specialize in convertibles have made this claim. But it's looking particularly salient of late.
The Bloomberg Barclays U.S. Convertibles Composite Total Return index soared to a record this week, surpassing its previous one from last year after a blistering 12.1 percent rally to start 2019. Since Sept. 21, when the S&P 500 Index reached its record high, convertibles have returned 1.5 percent, a comfortable middle road between the 3.7 percent loss on the S&P 500 and the 3 percent gain for the Bloomberg Barclays U.S. Aggregate Bond Index.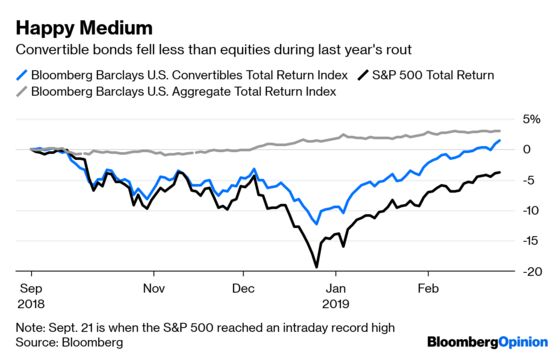 Of course, offering the characteristics of both stocks and bonds doesn't matter much for an investor who can simply buy both. But it does seem as if there's something inherently "cheap" about convertibles that boosts returns. A 60-40 split between stocks and bonds fails to match the gains on the convertibles index over the past year, three years and 10 years. In the aftermath of the financial crisis, AQR Capital Management called the dislocation in convertibles "a historic investment opportunity for long-term investors." The asset class bounced back quicker than stocks in 2009.
If there is a catch, it might be that issuers of convertible securities tend to have lower ratings and compete in potentially more volatile growth industries like technology (think Square, Tesla and Twitter). In many cases, they offer below-market interest rates. Twitter, for instance, pays a mere 0.25 percent coupon on its $1.15 billion of debt that matures in 2024, compared with the current 2.45 percent yield on five-year U.S. Treasuries. Convertibles might not tumble as much as equities during a broad market rout, but make no mistake: They will fall.
Fortunately for Maitland and others in the space, such a panic doesn't seem to be on the horizon. Thanks to Federal Reserve Chairman Jerome Powell's abrupt pivot at the start of the year, markets seem to be in a bit of a "Goldilocks" state once again. Bloomberg News's Liz Capo McCormick and Misyrlena Egkolfopoulou interviewed investors about how to trade the Fed pause. The responses were uninspiring: Money managers said they would "play both sides of the range-bound Treasury yield curve" or "be positioned neutral versus their benchmarks."
In what could be a difficult environment for investment returns above and beyond the market — what some refer to as "alpha" — convertibles seem worth a look. Some studies of the post-crisis market have found that the buyer base is now dominated by long-term investors rather than hedge funds seeking to employ a strategy known as "convertible arbitrage." To Maitland, the lack of speculators means convertibles can remain persistently undervalued.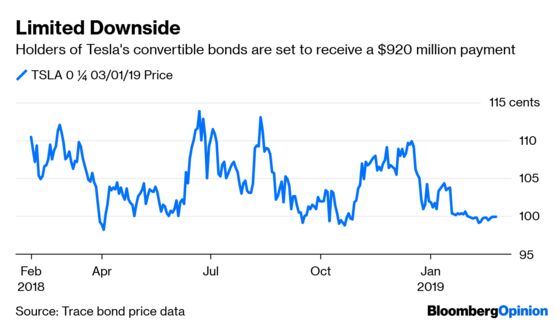 At least one convertible bond will be in the spotlight this week. Tesla's securities issued in 2014 are coming due on March 1, with Elon Musk's company poised to pay $920 million in principal, the largest debt payment in its history. The shares, which closed at $297.86 on Tuesday, needed to get to $359.87 for a swap. That ship had sailed, even before the U.S. Securities and Exchange Commission this week asked a judge to hold Musk in contempt for violating a settlement, or last week when Tesla's Model 3 lost a coveted recommendation from Consumer Reports.
Tesla's debt is behaving as expected as it nears maturity, trading in a tight range around 100 cents on the dollar for the past few weeks. Creditors will be paid back in full, while Tesla's stock price is still 5 percent lower than its one-year average. That's convertible bonds in a nutshell.
Because this is a total return index, it tends to naturally drift higher because of interest payments.
This column does not necessarily reflect the opinion of the editorial board or Bloomberg LP and its owners.
Brian Chappatta is a Bloomberg Opinion columnist covering debt markets. He previously covered bonds for Bloomberg News. He is also a CFA charterholder.