IPO Investors Get Kicked When They're Down
(Bloomberg Opinion) -- Investors need a reason to invest in European initial public offerings. All they are getting are reasons not to.
Medical devices firm Convatec Group Plc – one of the star debuts of 2016 – issued a massive profit warning on Monday, just as Spain's Cepsa pulled what would have been the biggest oil IPO in a decade.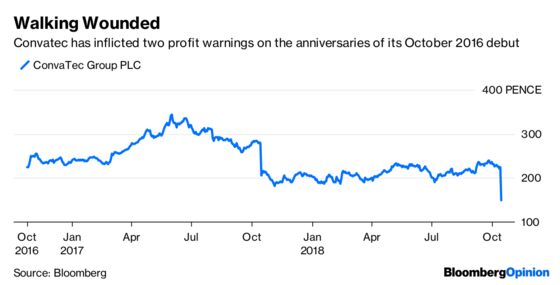 Europe's new issues market is having a bad year. If this carries on, regulators may start to ask questions about how it functions.
Convatec sold 1.6 billion pounds ($2.1 billion) of shares in October 2016 in one of the largest deals in a year when the Brexit vote dampened activity. But the company has a nasty habit of issuing profit warnings on the approximate one-year anniversary of its IPO.
Former owners Nordic Capital and Avista Capital cut a big chunk of their holdings before the first warning, twice selling for comfortably more than the 225 pence price at which the shares were first offered to the public. To facilitate this, the investment banks managing the IPO released the two private equity firms from a lock-up agreement not to sell their shares.
In May this year, Nordic sold its remaining stake at 220 pence a share. Today, Convatec shares are 35 percent below their IPO price. CEO Paul Moraviec, who sold 3.6 million pounds of stock in the offering, is retiring.
When it came to market, Convatec drew attention to various "total addressable markets" adding up to $10 billion. Market potential is meaningless without sustainable competitive advantage and expert execution of the strategy.
The IPO raised money to pay down debt, cutting net leverage to about 3.5 times Ebitda. Convatec said it expected to trim that ratio "meaningfully" over time, targeting less than twice Ebitda in the medium term – deleveraging being a common IPO pitch. Yet at the half-year, net debt was still 3.2 times Ebitda.
Deals like this stick in the craw of investors. So, too, does the poor performance of some recent IPOs. Aston Martin Lagonda Global Holdings Plc sank to a new intraday low on Monday. The track record of European IPOs from earlier in the year has been mixed.
Investors will still probably buy shares of companies that are lowly geared, have proven business models, and pay decent dividends as opposed to growth stocks being sold on inflated multiples of their revenue. Convatec may have problems of its own making.
Even so, Europe's IPO market looks like it has a problem. Deals come in fits and starts. Herd investing sees offerings do spectacularly well or badly in the first week. Private equity firms are incentivized to get an especially good valuation on their exit, something that may compound the problem. In a world resembling the U.S. a little more, the market would be characterized by a steady stream of sensibly sized deals that climb to reasonable premiums on their debut. European regulators soon may be tempted to look and ask why that isn't happening.
This column does not necessarily reflect the opinion of the editorial board or Bloomberg LP and its owners.
Chris Hughes is a Bloomberg Opinion columnist covering deals. He previously worked for Reuters Breakingviews, as well as the Financial Times and the Independent newspaper.