Company Profit Forecasts Trailing Analysts by Most in Two Years
(Bloomberg) -- The evidence is mounting: U.S. companies are growing less confident they'll be able to hit analyst profit targets.
Looking at forecasts issued by S&P 500 members last month, Bank of America found that more than two times as many projections were below the Wall Street consensus than above. It's the most shortfalls in 2 1/2 years.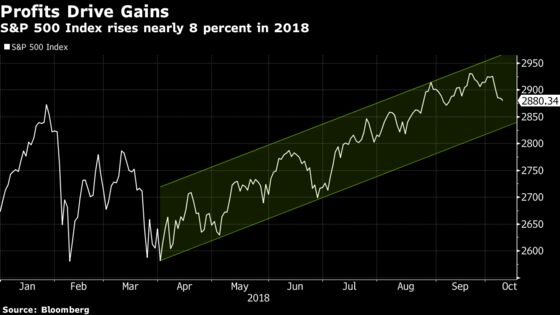 While it's not unusual for companies to predict profits won't match expectations -- the long-term average is 1.5 below for every 1 above, according to the bank -- the spike in pessimism among firms could prompt analyst to follow suit, pressuring stock prices ahead of the third-quarter earnings period that starts Friday.
"When we look at what corporates are saying, which tends to lead estimate revisions, the guidance ratio is still above average, but it's been coming down," said Jill Carey Hall, equity strategist at the bank's Merrill Lynch unit. "This is one data point that's something to watch going forward."
Analysts, Wall Street's most reliable bulls, keep raising profit estimates even as executives from Netflix to Applied Materials warn that the effects of rising interest rates and the Trump administration's trade war may crimp margins. For investors used to results soaring past estimates, disappointment can be costly.
That's not to say companies have grown flat-out bearish on earnings. Guidance remains "more optimistic than usual," Bank of America said, and the weak forecasts from last month came from only a score of companies, lower than in most months. Still, the move to lower expectations among investors heading into this period is a change this year.
"Unlike in the last quarter going into the earnings season, the earnings estimates on Wall Street were rising and this one, it's coming down a little bit," said Jim Paulsen, chief investment strategist at Leuthold Weeden Capital Management. "That's different."
Companies are expected to earn $42.11 a share in the June-September period, a quarterly record. Citigroup Inc. and Wells Fargo & Co. report results Friday, before Netflix Inc. and EBay Inc. step up the following week. Investors are likely to look for "more color on tariffs" during upcoming earnings calls, to better assess the impact trade issues will have on profit margins, said Hall.
"Now that we've seen more tariffs put in place, we'll be paying attention to that," she said. "And if any other uncertainties have crept in, as well as if there's evidence of wage pressures building further, which can impact margins."