Companies Are Furiously Guiding Down Analyst Earnings Estimates
(Bloomberg) -- On the bull market villains list, it's public enemy No. 1: peak earnings. At what point does the profit bubble pop? Ever since Caterpillar Inc. mentioned a "high water mark" in growth, Wall Street has been on alert.
To date, the worries have been unfounded. Earnings soared 24 percent in the first quarter and did it again in the second. And while nothing is likely to prevent another blowout quarter in the third, one trend bears watching: the rate at which executives are guiding down forecasts.
Led by high-profile warnings from Netflix Inc. and Applied Materials Inc., the number of S&P 500 companies saying profits will trail analyst estimates outnumbered those saying they'll beat them by a ratio of 8-to-1 in the third quarter. That's the most in Bloomberg data going back to 2010.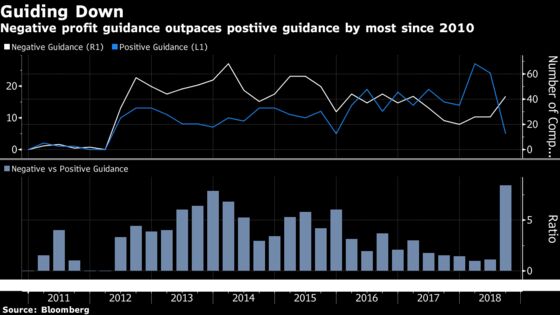 Several conclusions are possible, among them that analysts -- who saw their predictions trounced at record rates in the first half -- got tired of being wrong and lifted estimates to unrealistic heights. Or, it could be that companies, which hate merely to match estimates, are making room for the quarterly ritual in which they beat every forecast by a penny.
Still, that happens all the time, without being occasion for this quarter's lopsided guidance. For skeptics looking for evidence income growth is peaking, a more ominous take-away is forming. It comes at a time when everything from rising costs to weakening overseas demand threaten to damp growth, according to Tobias Levkovich, Citigroup's chief U.S. equity strategist.
"Given ebullient investor sentiment, we do not think there is much room for companies to disappoint without taking a hefty toll on share prices," he wrote in a note. "Notably stronger dollar and higher interest rates plus some softness in emerging economies all intimate the potential for misses."
Companies are expected to earn $42.11 a share in the June-September period, a quarterly record. Yet with valuations elevated, the margin of error is getting thin. At 16.8 times forecast earnings, the S&P 500 traded at a multiple that's 14 percent higher than its 10-year average.
Early results suggest the bar is getting higher. Among 19 S&P 500 companies that have reported results this season, all but two exceeded profit estimates. Their stock fell an average 2.8 percent in first-day reactions.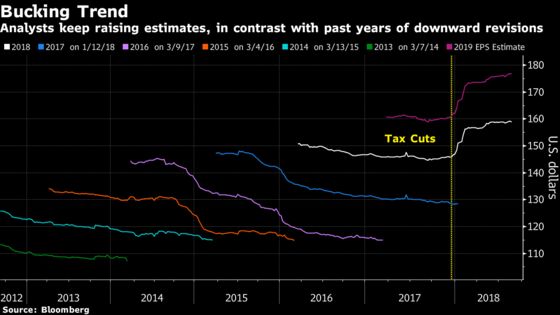 The danger of an unexpected slowdown to the market was showcased on April 24, when Caterpillar signaled the first quarter might be as good as it gets. Shares of machinery giant tumbled 6.2 percent, sparking a decline in the broad market.
"Strong earnings have been the most important factor that has enabled the stock market to ignore the headwinds it has faced this year," said Matt Maley, an equity strategist at Miller Tabak & Co. "If the projection for future earnings suddenly become less bullish, it could/should be enough to upset the balance between the bullish & bearish macro factors that are facing the markets right now."
Sentiment among management fell in the second quarter, UBS Group AG found after studying conference calls. And negative language is likely to pick up during this reporting season given the uncertainty around trade talks between the U.S. and China, said Keith Parker, the firm's head of U.S. equity strategy.
Bolstered by tax cuts and a strengthening economy, more than 80 percent of S&P 500 companies delivered better-than-expected profits during last reporting season, a rate that's never seen before. All together, earnings topped forecasts by 5.2 percent. The record pace of beating is unlikely to continue, according to Ed Keon, chief investment strategist at QMA.
"You're going to go to a slower trajectory," said Keon. "You'll see the second quarter will turn out to be the peak in terms of growth rates."