Commodities Are Good News for Banks Again
(Bloomberg) -- Commodities revenues at major investment banks have finally picked up.
Combined income at 12 top banks including Goldman Sachs Group Inc. and Citigroup Inc. climbed 45 percent to $3.6 billion last year, according to analytics firm Coalition Development Ltd. That marks a turnaround after three years of worsening results driven by increased regulatory scrutiny, curbs on proprietary trading and reduced investment by hedge funds.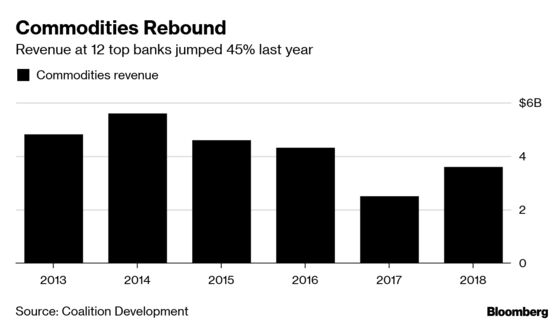 Last year's rebound in commodities revenue followed the worst annual performance since at least 2006, Coalition data show. The recovery was partly driven by strong results in power and gas, one-off gains in industrial metals in the first half and higher returns from investor products. While the Bloomberg Commodity Index posted a decline, a measure of volatility ended 2018 at the highest in more than two years.
Goldman is one bank which has seen commodities revenue recover in the past year, even though it remains below historical levels. In May, Bloomberg reported that the bank made more money in raw materials in the first few months of this year than in all of 2017. Still, commodities is one unit that Goldman is considering shrinking, people briefed on the matter said earlier this month.
Coalition, which tracks commodities revenues at top Wall Street and European banks, doesn't comment on specific firms. It monitors activities related to power, gas, oil, metals, coal and agriculture. Other banks tracked by the firm include JPMorgan Chase & Co., Morgan Stanley, Societe Generale SA and UBS Group AG. The analysis doesn't include Australian, Canadian or emerging-market banks that have a large presence in commodities.