Columbia University Posts 9% Gain, Ranking Last in Ivy League
(Bloomberg) -- Columbia University posted a 9 percent investment gain, ranking it last among the eight Ivy League endowments.
The average return for the group was 11.8 percent in the 12 months through June 30, according to data compiled by Bloomberg. The median gain for endowments of all sizes was 8.3 percent, according to consultant Cambridge Associates.
Princeton University was the top performer in the group, with a 14.2 percent return. Harvard University, the richest school in U.S. higher education at $39.2 billion, gained 10 percent.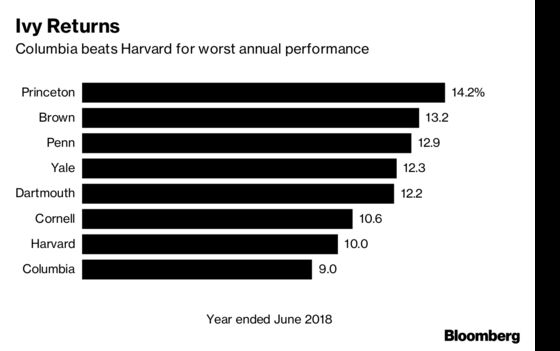 Columbia's endowment was valued at $10.9 billion as of June 30, the school said Wednesday in a statement. The endowment didn't disclose strategies, asset allocation or performance by asset class. The fund "includes significant allocations to diversifying investments uncorrelated to equity markets," according to the statement.
The fund had an annualized 8 percent return in the past 10 years.
"The returns achieved over the past decade and the remarkable generosity of our donors continue to help us expand student access, discover new knowledge, and advance Columbia's groundbreaking research," Columbia President Lee C. Bollinger said in the statement.
Peter Holland took over as chief executive officer of the endowment in October 2016 after Narv Narvekar departed for Harvard Management Co.