Colombian Traders Ask Whether Harbor Fund Is Done Selling Stocks
(Bloomberg) -- One of Colombia's largest foreign investors is cashing out of the country, causing volatility and underperformance in its illiquid stock market.
The $21.5 billion Harbor International Fund sold nearly half its position in Bancolombia, Colombia's biggest bank, earlier this year, reducing its holdings by about $300 million, according to data compiled by Bloomberg. The retreat from the country, where it held $1.1 billion worth of shares spread between five companies, accelerated after the fund's Chicago-based parent, Harbor Funds, switched advisers last month, analysts and traders said.
"This is our largest international player," Jose German Cristancho, head of research at Corredores Davivienda, said in an interview. Depending on how much they are selling, "and taking into the account the size of their portfolio, I think this could result in volatility in the market going forward."
Colombian stocks were relatively unscathed by turmoil in emerging market assets in the first half of the year, but a recent sell-off by foreign investors has contributed to a drop in the country's benchmark Colcap index this month. Among the worst-performing indexes in Latin America this month, the Colcap was down 0.7 percent at 3 p.m. New York time Thursday. It had fallen on 10 of the previous 13 trading days.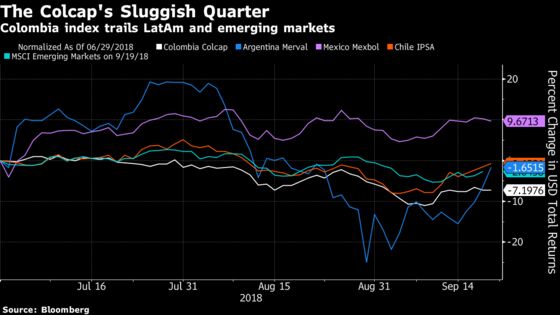 The extent of the fund's sales will not be known until it reports its third quarter positions. It has held a large overweight position in Colombia since 2014, according to Bogota brokerage Alianza Valores. Five Colcap companies accounted for 5 percent of its total holdings at the end of the second quarter, its biggest emerging market position.
The lack of liquidity in Colombia's market means that a $50 million sale of shares can trigger a price drop, said Carlos Enrique Rodriguez, director of equity research at Ultraserfinco in Bogota.
"That lack of liquidity could be a problem for Harbor as it goes to sell those assets," he said. Rodriguez calculates that Colombia trades about $45 million a day, compared to $170 million a day in Chile and $370 million a day in Mexico.
Harbor said it switched advisers in late August to Marathon Asset Management, a London-based firm that favors developed Asia and Europe equities over emerging markets. The fund previously worked with Boston-based Northern Cross.
In reply to emailed questions, Harbor said it "does not comment on investment decisions taken by sub-advisers until the holdings have been publicly disclosed." In a previously published investor Q&A announcing the adviser switch, Harbor said Marathon's "strategy focuses primarily on developed foreign markets, with limited emerging market exposure."
Marathon Asset Management and Northern Cross didn't reply to emails seeking comment.
Foreign investors have been exiting the region since June, with equity exchange traded funds shedding $1.3 billion in Latin American stocks, or about 17 percent of their assets in the region, according to TrimTabs, a research firm that tracks fund flows.
As of the end of last quarter, Harbor was among the top holders of New York-traded ADRs of banking groups Grupo Aval and Bancolombia, as well as the Bogota-traded shares of conglomerates Grupo Sura, Grupo Argos and its concrete subsidiary Cementos Argos, according to its filings.
Harbor's actions are causing uncertainty in the local market, said Steffania Mosquera, an analyst with Credicorp Capital in Bogota.
"Harbor is leaving Colombia, but the question is how long the sale will go on for," she said. "Investors don't want to buy until they know Harbor is done selling."