Coinbase to Bring in $1.3 Billion in Revenue Despite Crypto's Massive Slump
(Bloomberg) -- In the last year, the cumulative value of all major cryptocurrencies has tumbled by more than 70 percent. But that doesn't mean no one's making money in crypto anymore.
Coinbase Inc., the go-to exchange for cryptocurrencies like Bitcoin, is projecting revenue for the year of nearly $1.3 billion, according to a document reviewed by Bloomberg. And investors have taken note. Earlier this month, Coinbase raised money at valuation of $8 billion, a number that places it among the ranks of the world's most valuable startups. That valuation is more than five times higher than it was early last year.
The San Francisco-based company has been able to capitalize better than most on the crypto frenzy of the last few years. The company's $1.3 billion in sales for 2018 comes from the commissions on trades on its platform, as well as from gains and losses in its own crypto holdings. Because the firm looks at several internal measures of revenue, the exact figures can vary.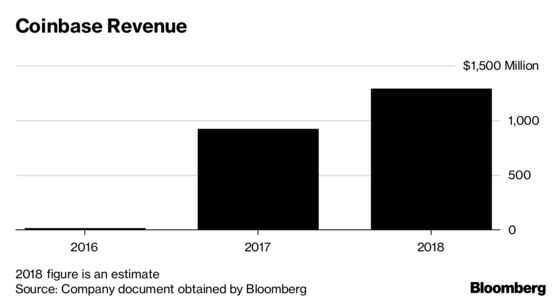 In 2016, as cryptocurrency prices began to take off, Coinbase's revenue was just $17 million, the same document shows, and the company recorded a net loss of $16 million. By 2017, however, the company had recorded a profit of $380 million. It is now projecting that number will be $456 million in 2018.
"The companies interested in investing in us know that this is the next wave of tech innovation," said Asiff Hirji, Coinbase's chief operating officer. "This was an opportunistic round. We didn't have to go out and raise capital."
Targeting more than $400 million in profit seems ambitious for a six-year-old startup in an uncertain industry, and it's not without risk. By some estimates, the number of U.S. users trading on the Coinbase platform has fallen roughly 80 percent since the peak in late 2017 and early 2018. Hirji wouldn't comment on the specific revenue figures, but he did say that Coinbase is a bet on the future of crypto, and that if the value of Bitcoin and other crypto currencies declines, sales will too.
At the end of the first half of this year, the document shows the firm had $503 million in cash in the bank. It did not detail projected revenue for 2019.
As Coinbase was raising its most recent funding round, the value of cryptocurrencies was sinking. According to multiple reports, the company was planning to raise money at an even higher valuation, but the decline in the price of Bitcoin weighed on those conversations. Investors did find comfort, however, in the firm's efforts to diversify. Tiger Global will be leading the round, which was earlier reported by Recode.
One push for expanding its business has been to add products for larger institutional clients. Crypto-focused hedge funds have been the first to adopt some of these tools, which include custodial services where investors can store large amounts of digital currencies, as well as enhanced trading capabilities, such as risk management and margin trading, which allows customers to use borrowed money. This product has been slow to take off, but Coinbase is telling investors that it expects to have 40 clients with more than $1 billion under custody within the coming weeks. Last week, it received regulatory approval to operate as an independent qualified custodian for select cryptocurrencies like Bitcoin and Ethereum.
But no amount of diversification will change the fact that that Coinbase is a cryptocurrency company. And its investors are betting on the future of crypto, as well as the platform. "For this round, we simply weren't interested in taking investments from firms that didn't have a constructive view of crypto," Hirji said. "This round, and the future of crypto in general, needs to be about more than asset prices."