Coinbase Closes at a Record Low After Wild Bitcoin Session
(Bloomberg) -- Coinbase Global Inc. closed at a record low after a wild trading session that saw the price of Bitcoin swing by about $10,000.
The largest U.S. cryptocurrency exchange fell as much as 13% before paring the loss to close down 5.9% at $224.80 amid a broader rout in cryptocurrencies. Coinbase reported "intermittent downtime" on its platform, before saying it had identified and fixed the issue while Binance, the world's biggest cryptocurrency exchange, temporarily disabled Ethereum withdrawals citing network congestion.
Bitcoin plunged as much as 31% and approached $30,000 before rebounding to about $40,000 at 4 p.m. New York time. The cryptocurrency has now erased nearly all the gains it made following Tesla Inc.'s Feb. 8 announcement that it would add the asset to its balance sheet. A statement from the People's Bank of China Tuesday reiterating that digital tokens can't be used as a form of payment added to the selloff. Ethereum lost more than 40%, while Dogecoin declined 45%, before joining in Bitcoin's rebound.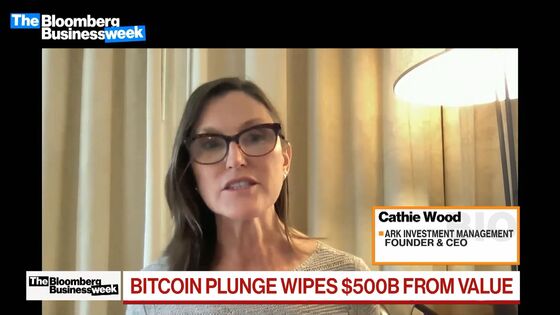 The broader U.S. stock market also made up some ground with the S&P 500 Index closing down 0.3% and the Nasdaq 100 Index up 0.2% after both lost more than 1.6% earlier in the session.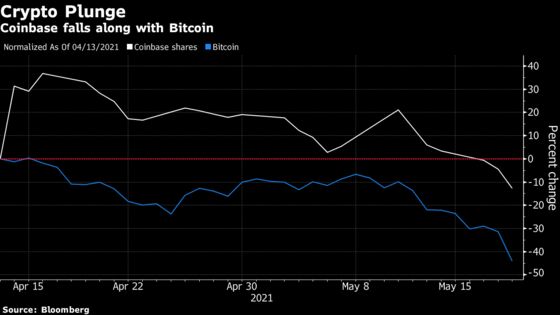 MicroStrategy Inc. was down 6.6% after losing as much as 16% earlier. On Tuesday, the enterprise-software company known for its bullish bets on cryptocurrencies disclosed that it bought another 229 Bitcoin, bringing its total to over 92,000. It has now erased about two-thirds of its value from its February high.
Amid other crypto-connected stocks, Bit Digital Inc. was down 17%, Ebang International Holdings lost 9.8%, and Marathon Digital Holdings Inc. and Riot Blockchain Inc. both slid 5.6%.