Citigroup Says Pain in Small-Cap Stocks Is Just Getting Started
(Bloomberg) -- Small-cap stocks, largely shielded from trade-war tiffs for much of the year, are stumbling and could be in for more trouble as interest rates rise, according to Citigroup Inc.
The Russell 2000 Index of smaller firms fell 0.8 percent Wednesday, capping a five-day decline that erased its year-to-date gain for a second time in as many months. Down 14 percent from its August peak, the decline is twice the drop the S&P 500 has seen over the same period. It's a departure from the first eight months of the year, when small-caps beat their larger counterparts by almost 5 percentage points.
Fundamentals are going against small firms, Citigroup said. Dips in earnings estimates have been more evident than large-caps and with higher leverage, smaller firms are more vulnerable to rising interest rates.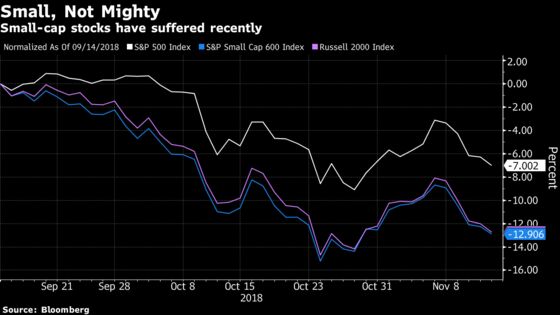 "Small cap weakness has been justified," wrote Tobias Levkovich, Citi's chief U.S. equity strategist. "And we do not see a reason to believe another inflection is likely in the near term that supports the Russell 2000 over the S&P 500."
The pessimism echoes Bank of America, where strategists have been reluctant to drop their cautious view on small-caps despite the group's biggest discount in 15 years. Their case against them: a deterioration in analyst revisions and corporate guidance.
For most of this year, a bull case for small-caps has been their perceived insulation from global turmoil because of their domestic focus. Both Citi and BofA cast doubt on that view.
While at 75 percent, the Russell 2000's sales exposure to North America is bigger, it's not dramatically far away from a range of 72 to 73 percent seen from S&P 500 companies, data compiled by Citi showed.
And during this earnings season, smaller firms showed the same level of anxiety over trade. BofA studies earnings calls and found the word "tariffs" was mentioned almost equally as frequent between small and large companies.
"Concerns around tariffs/trade are still are prevalent down the cap spectrum," Savita Subramanian, BofA's head of equity and quantitative strategy, wrote in a note Monday.