Citigroup Says Get Used to Panicky Stocks With Earnings Views Dimming
(Bloomberg) -- Unfounded optimism about earnings is behind the equity slump and markets are likely to remain turbulent as estimates for next year's earnings are recalculated, according to Tobias Levkovich at Citigroup.
The chief U.S. equity strategist, who in September warned that investor euphoria was setting the stage for a stock retreat, said indicators such as inter-stock correlation and analyst sentiment aren't yet at levels that usual accompany market bottoms.
Profits for S&P 500 companies are likely to increase 6 to 8 percent in 2019, compared with the current consensus around 11 percent, he said. Either would be a dramatic slowdown from this year's growth rate of 24 percent.
"Profit forecasts for 2019 were too high (given broad based optimism) and things needed to reset," Levkovich wrote in a note to clients. "In the interim, one should expect some seesaw racing patterns with some flight to quality."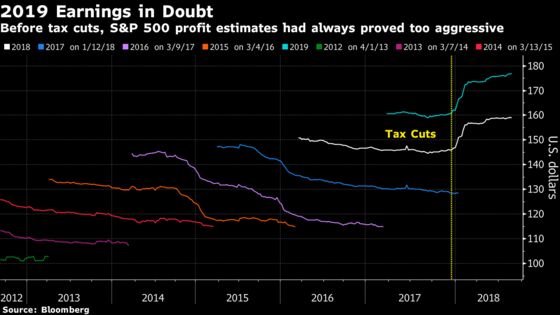 The S&P 500 has lost almost 8 percent in October, poised for the worst month in eight years. All major industries are suffering losses in the period, except for utilities and consumer staples, companies with stable earnings and high dividends.
While euphoric sentiment has dissipated amid the slump, Levkovich sees room for pessimism to grow. The firm's measure of how much S&P 500 stocks move together has jumped to 40 percent from 10 percent, yet it's still short of the 60 percent reached during the February rout. Lockstep moves during market turmoils typically suggest indiscriminate selling where fears reach climax.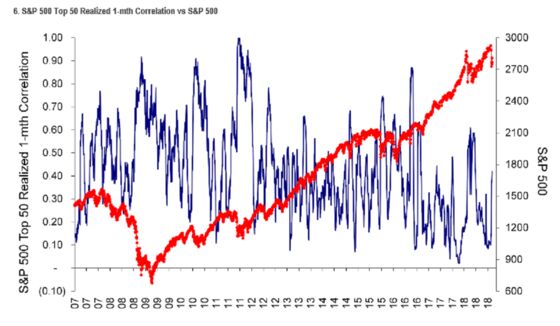 Before this year's tax cuts, analyst forecasts proved too optimistic in each of the past five years. Their annual estimates fell an average 3.8 percent from January to December. Should the pattern repeat in 2019, the current profit prediction for $176.60 a share would end up somewhere around $170.00, data compiled by Bloomberg show.