Citi Says Good News Is That U.K. Banks Priced In No-Deal Brexit
(Bloomberg) -- While the world watches Brussels tonight to see if there will be a deal or no-deal in Brexit talks, investors in U.K. bank stocks aren't waiting around. They're already hedging their bets by partially pricing in a worst-case scenario, according to Citigroup Inc.
Though Citi still thinks a deal is likely at some point, a failure to reach one would hit profits for U.K. domestic lenders by up to 25 percent, analysts wrote in a note. However, the banks' implied equity risk premiums are already at elevated levels, they said.
"Current valuations are already pricing in a 'no deal' outcome to some extent, which could help to moderate some of the share price impact from consensus EPS downgrades," Citi analysts, including Andrew Coombs, wrote in a note. "Despite subdued industry loan growth, competitive pressures and a credit cycle that looks set to gradually turn, bank earnings have proved remarkably resilient since the referendum."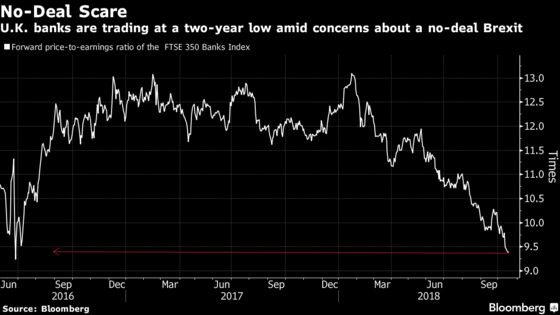 The FTSE 350 Banks Index is trading at a near two-year low as concerns about slower growth, the weaker British pound and political instability have scared investors away from British lenders. Theresa May heads into a summit in Brussels this week to try to break the deadlock in Brexit negotiations amid speculation that the latest proposals could be thrown out by Parliament.
Among U.K. lenders, Lloyds Banking Group Plc and Barclays Bank Plc could face the biggest risk due to their larger unsecured credit exposures, Citi said. A no-deal outcome would also likely mean that interest rates will remain lower for longer, eating into the banks' earnings.