Citi's TOWIE-Inspired Mantra Is at Risk of Brexit 
(Bloomberg) -- The chaos Brexit has caused for London-traded stocks is prompting Citigroup strategists to re-think a mantra inspired by a long-running reality television show.
Citi dubbed its investment approach on the U.K. "The Only Way is Equities," in tribute to ITV Plc's "The Only Way is Essex," or "TOWIE" (pronounced t-ow-ee). The widely adored -- and also often loathed -- series follows a group of glamorous twenty- and thirty-somethings pursuing love and fame in a county just outside of London.
The bank's strategists adopted the mantra after noting that U.K. stocks have fared better than most other asset classes over the past three decades. But the mayhem surrounding the country's departure from the European Union is testing the motto's credibility.
Ahead of the open this morning, FTSE 100 futures are down 0.3%, while Euro Stoxx 50 futures are little changed.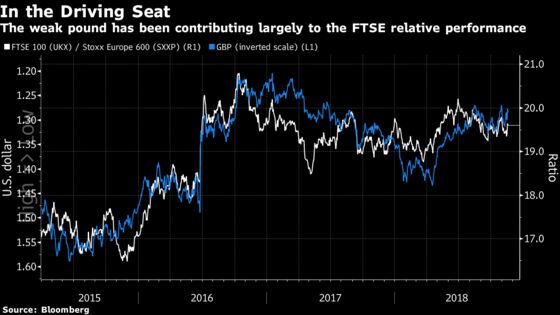 "Brexit is a major challenge to TOWIE, depending on outcome," analysts led by Jonathan Stubbs wrote in a note after the resignations of key ministers Thursday in protest at the divorce deal reached with the EU.
Crashing out of the trading bloc without a withdrawal treaty could present "strong headwinds" for the unusually-named strategy, and so could the potential of the Jeremy Corbyn-led Labour party coming to power, they wrote. Left-wing lawmaker Corbyn favors tighter financial regulation and higher taxes, as well as nationalizing some industries.
But while Stubbs took inspiration from the likes of Gemma and Arg -- among the show's feisty couples -- it's unclear if he's actually a fan of the show, which is into its 23rd season. The strategist didn't respond to a request for comment.
Watch trade-sensitive sectors, including miners, semiconductors and cars. Nothing happened at the weekend to suggest that trade concerns around China are on the verge of abating. U.S. Vice President Mike Pence sharpened his attacks on China over the weekend, most notably calling for countries to avoid loans that would leave them indebted to Beijing.
Watch U.K. stocks overall. According to The Sun newspaper, lawmakers seeking to oust U.K. Prime Minister Theresa May have not yet secured the requisite level of support to do so. However, any further headlines on this topic should move an already jittery pound, impacting U.K. stocks.
The U.K. real estate sector is also in the spotlight, after some dismal new data from Rightmove. U.K. asking prices dropped for the first time since 2011 in November and fell the most since 2012, mainly due to drops in London and for the priciest homes.
"Italy is the laggard of Europe; its 3Q GDP growth fell to zero. The budget crisis remains unsolved and we expect the Italian economy to flirt with recession in early 2019," Goldman Sachs strategist Peter Oppenheimer writes in a note. "Although the situation may have to get worst before it gets better, we see the risk of economic spillovers as limited."
Telecom Italia's decision to name Luigi Gubitosi as its new chief executive officer marks another victory for Elliott in its push for a radical overhaul of the embattled phone company.
Hitachi has been in private talks to buy part or all of ABB's power-grids business, which analysts estimate is worth about $13 billion, the Financial Times reports, citing unidentified people close to the matter.
Conoco Enters Into Exclusive Talks to Sell U.K. Assets to Ineos
Nestle, Unilever in Final Round for GSK India Consumer Sale: ET
Abertis Opens Process to Sell Hispasat, Cinco Dias Reports
ABN Amro Managers Sent Warning Letter to Spvy Board Chairman:FD
Danske Bank Whistle-Blower Questioned by Danish Police: Borsen
Zur Rose Sees Net Proceeds from Rights Offering at ~CHF200m
France to Maintain Top Renault Stake If Alliance Changes: Nikkei
AstraZeneca Started Succession Planning for Soriot, Times Says
Kimberly-Clark Is Said to Call Off European Tissue Sale: FT
Babcock Decided Against Splitting Itself Up, Sunday Times Says
Technicolor Exploring Options, Including Sale: Reuters
Electrolux Prepared to Raise Prices Further, CFO Says: WSJ
BBVA Seeks Partner for Insurance Business: Expansion
LSE Looks to Shift Debt Trade to Italy in Brexit Hedge: FT
Yara Names Lars Rosaeg New CFO, Ostbo Will Leave Company
NOTES FROM THE SELL SIDE:
Citi thinks infrastructure firms in Europe are facing a more mixed economic outlook following several years of strong traffic growth, a robust economy and record low interest rates. Political uncertainties in Europe, signs of rising bond yields may combine with "demanding valuations" plus limited growth in cash flow or earnings to cap share prices for airports more than in toll road companies. The bank starts Vinci and Eiffage at buy, Atlantia, Fraport and Ferrovial at neutral and ADP, Aena, Getlink and Flughafen Zurich at sell.
Jefferies writes Heineken's growth outlook is strong, with the Americas having accelerated, Africa "robust" and Asia Pacific in "good health". Margin concerns are starting to be reflected in the valuation, with shares trading at a 9% discount to staples. The broker keeps its hold recommendation.
TECHNICAL OUTLOOK for Stoxx 600 index:
Resistance at 365.1 (38.2% Fibo); 369.2 (50-DMA)
Support at 353.1 (50% Fibo); 341.2 (61.8% Fibo)
RSI: 39.7
TECHNICAL OUTLOOK for Euro Stoxx 50 index:
Resistance at 3,194 (50% Fibo); 3,262 (March low)
Support at 3,072 (61.8% Fibo); 2,921 (76.4%)
RSI: 42
MAIN RESEARCH AND RATING CHANGES:
UPGRADES:
Bakkafrost upgraded to neutral at SpareBank; PT 430 Kroner
Mercialys upgraded to buy at HSBC
Nexans upgraded to buy at HSBC
Novartis upgraded to buy at Goldman
Novo Nordisk upgraded to overweight at JPMorgan; PT 340 Kroner
Oerlikon upgraded to buy at SocGen; PT 15.50 Francs
Tele2 upgraded to buy at Berenberg
Arkema downgraded to sell at Goldman; PT 85 Euros
Bpost downgraded to hold at HSBC
Scottish Salmon Co Plc/The cut to neutral at SpareBank
Swatch downgraded to neutral at MainFirst; PT 340 Francs
Wacker Chemie downgraded to neutral at MainFirst; PT 102 Euros
Aena rated new sell at Citi
Aeroports de Paris rated new sell at Citi
Atlantia rated new neutral at Citi
Eiffage rated new buy at Citi
Ferrovial rated new neutral at Citi
Fraport rated new neutral at Citi
Getlink rated new sell at Citi
Vinci rated new buy at Citi
Wacker Neuson rated new outperform at MainFirst; PT 24 Euros
Westwing Group rated new buy at Berenberg
Westwing Group rated new buy at Citi
Zurich Airport rated new sell at Citi
MSCI Asia Pacific up 0.1%, Nikkei 225 up 0.6%
S&P 500 up 0.2%, Dow up 0.5%, Nasdaq down 0.2%
Euro down 0.04% at $1.1411
Dollar Index up 0.01% at 96.48
Yen up 0.12% at 112.7
Brent up 0.7% at $67.2/bbl, WTI up 1.1% to $57.1/bbl
LME 3m Copper up 0.4% at $6227.5/MT
Gold spot down 0.1% at $1219.9/oz
US 10Yr yield up 1bp at 3.07%
MAIN MACRO DATA (all times CET):
10am: (EC) Sept. ECB Current Account SA, prior 23.9b
10am: (IT) Sept. Current Account Balance, prior 4.99b
11am: (EC) Sept. Construction Output MoM, prior -0.5%
11am: (EC) Sept. Construction Output YoY, prior 2.5%