Citi Drops Buy-Treasuries Trade on Potential Oil-Price Spike
(Bloomberg) -- The risk of higher oil prices -- and thus inflation -- from the deteriorating political situation in Venezuela has prompted Citigroup Inc. to cut its trading buy recommendation on Treasuries.
A spike in oil could have a knock-on effect on U.S. inflation expectations and cut short the current rally in government bonds, strategists including Jeremy Hale wrote in a note to clients Thursday.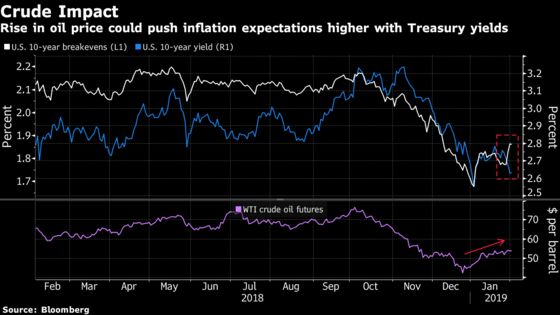 "With U.S. sanctions biting, there is a risk that the markets may need to price an even greater loss of output as the domestic political situation deteriorates" in Venezuela, they wrote. "With that in mind, we find the risk/reward of holding nominal U.S. Treasury positions on a tactical basis diminishing somewhat."
The bank suggested investors who followed its bullish 10-year Treasuries trading call in early January should take profits and "stand aside" for now.
The benchmark Treasury yield has fallen about 12 basis points this week as the Federal Reserve's dovish pivot left many investors betting against any further hikes in this economic expansion. Oil futures have risen around 3 percent since opposition lawmaker Juan Guaido declared himself president of Venezuela on Jan. 23, a move backed by U.S. President Donald Trump. Venezuela has the largest oil reserves in the world.