Chris Christie Talks Democratic Race at Steve Cohen's Place
(Bloomberg) -- Steve Cohen, sitting in an armchair in the living room of his 51st-floor Midtown Manhattan apartment Tuesday night, had a couple questions for Chris Christie, the candidate he supported for president in the 2016 race.
"Who do you think the Democrat nominee is going to be?" Cohen, founder of Point 72 Asset Management, asked the former New Jersey governor about the 2020 field. Christie, a Republican, dropped early from the party's primary race after winning just 7 percent of the vote in New Hampshire.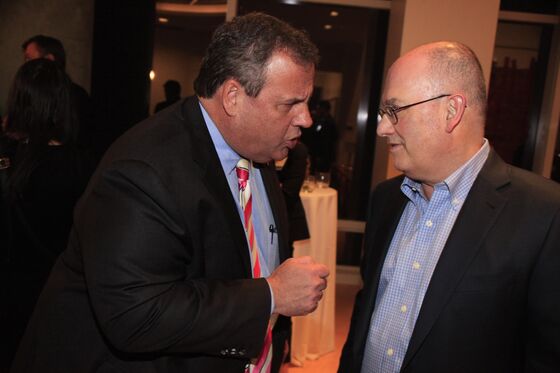 As a two-term governor, Christie, 56, never shied from speaking his mind. And on Tuesday, he risked stirring controversy by describing two black candidates as "articulate" and calling former Vice President Joe Biden "crazy Uncle Joe." In a room full of reporters gathered for an on-the-record event celebrating the publication of Christie's memoir, he offered takes on several candidates:
On Senator Kamala Harris: "She's got California, and they're going to start voting early. That's going to be helpful. She's got a prosecutor background, which can help mitigate the far-left stuff that she says. She's articulate and she presents herself pretty well, OK. So she's got some advantages."
He warned that, on a national stage, every word will be fact-checked and scrutinized. "She was saying that she was smoking pot and listening to Tupac in college," Christie said. "She's probably used that line 100 times in California, and the local press in California didn't really give a crap." The same isn't true of the reporters covering the presidential race.
On Senator Cory Booker: "Booker has potential because he's very articulate, he's very charming," Christie said. "He's going to talk about love. I've known Cory for 15 years, and he's a friend, he's very good at that. Everybody's going to listen to that first speech, and go, 'I love him.' Will they love him for the second speech, third speech and fourth speech, and is there a second speech, third speech and fourth speech?"
On Biden, 76, whom he called the front-runner: "Is he going to be the adult in the room or is he going to be crazy Uncle Joe? He could be either. If he's the adult in the room, I think he's got a real shot to be able to distinguish himself in a material way from the other people, but if he's crazy Uncle Joe and starts saying wacky stuff again, they're gonna be like, 'He's past his prime' and they won't pay any attention to him."
Biden himself had to apologize in 2007 for remarks he made about then-Senator Barack Obama when both men were seeking the Democratic nomination for president. He'd called Obama a "sort-of mainstream African-American who is articulate and bright and clean." The gaffe didn't prevent Biden from serving eight years as Obama's vice president, and, by all accounts, the two men grew into close friends.
On Senator Amy Klobuchar: "I don't see her being in the right spot," Christie said. "What's the first thing that happens to her? Her entire rollout gets stepped on by a whole bunch of her former staff saying that she's a monster, and screams and yells and throws stuff at people and is a lunatic to work for. So instead of talking about her ideas for the country, her first four days she's talking about, 'Well, I'm tough but I'm reasonable.' It's the old, 'When you're explaining, you're losing."'
On the field in general: "Either they rolled out poorly or you don't even know them," Christie said. "We're just going to have to take time to see who it's going to be. But every day that goes by that they don't have someone who's shining, it's a good day for Trump."
Former Goldman Sachs Group Inc. President Gary Cohn and K.T. McFarland, who both were officials in the administration of President Donald Trump, attended the event held in the apartment where Cohen hosted a fundraiser for Christie during his 2016 presidential bid.