Chips Face Supply Problems, But Growth Makes Them Tech Winners
(Bloomberg) -- Supply-chain constraints may be damaging large parts of Corporate America right now, but investors are eyeing longer-term growth prospects when deciding what to buy. That explains why chip stocks are beating retailers.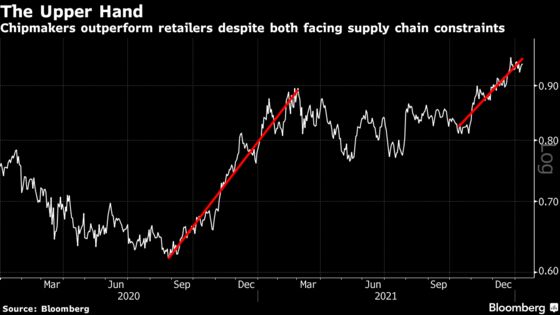 Early in the pandemic, semiconductor companies benefitted from rising prices due to a lack of supply, or higher relative demand, as countries in the Asia supply chain locked down. Now the industry is pulling away again because of its growth prospects. Chips are in high demand for everything from electric vehicles to the data centers that will one day power the metaverse. So while lead times for semiconductor production have risen to about 26 weeks, according to Susquehanna Financial Group, the problem is considered temporary. Longer-term plans to increase domestic production capacity and more use cases for chips are what's driving the stocks.
Retailers, on the other hand, have been facing higher margin costs from transportation, rising input prices and labor issues. So far, they've been able to offset these pressures as stimulus continues to boost people's ability to spend. Some companies have even improved margins by passing the costs on to consumers. But as government assistance fades and the supply chain issues persist, retailers remain at a disadvantage.