Chipmakers Rally on Trade Agreement, But More Uncertainty Seen
(Bloomberg) -- Semiconductor companies rallied in early trading on Monday following an agreement on trade between the U.S. and China that was seen as easing a potential headwind from the sector.
Advanced Micro Devices gained 6.4 percent on heavy volume, on track for its best one-day gain since early November. With the day's advance, the stock has risen about 35 percent from a recent low in late October, though it remains well below a September peak.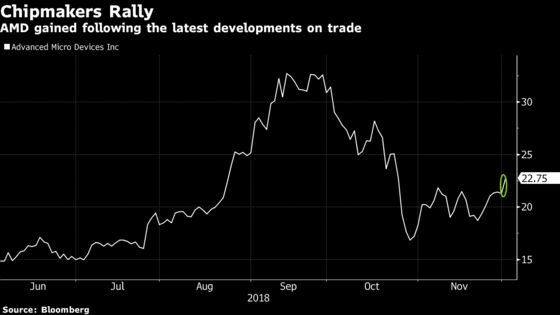 Micron Technology Inc. added 2.7 percent and Nvidia Corp. was up 5.9 percent. The Philadelphia Semiconductor Index rose 2.7 percent, with all of its components in positive territory.
Chipmakers have had a high correlation to developments in trade policy, given their heavy revenue exposure to China. AMD and Micron, for example, both derive more than 40 percent of their revenue from the country, according to Bloomberg data.
The semiconductor sector has been highly volatile over the past several weeks, as investors grapple with the prospects of lower demand and high inventories. Uncertainty surrounding trade policy has amplified this issue.
"We think the trade and tariff issues were one reason – but not the only reason - for the slowdown that became apparent in August / September," Chris Caso, an analyst at Raymond James wrote, though he added that the latest developments likely hadn't resolved the issue for good.
Over the weekend, U.S. President Donald Trump and Chinese President Xi Jinping agreed to keep their trade war from escalating with a promise to halt the imposition of new tariffs for 90 days while they negotiated a lasting agreement.
"While we're in no position to predict the outcome of those discussions, we do think the threat of tariffs has potentially had some effect on supply chain behavior, with some customers pulling forward purchases, just as they did over the summer ahead of the 10 percent tariff," Caso wrote to clients. "It's unclear how customers will choose to react to this 90 day postponement – but it does add a layer of uncertainty."