Chip Analysts Struggle to Get Excited About 2020 After Rally
(Bloomberg) -- After a year in which semiconductor stocks defied conventional wisdom with a seemingly unstoppable rally in the face of gloomy fundamentals, analysts are loathe to go all in.
With signs of a rebound in demand still scant, the key question for the new year is where chipmaker shares can go when they're trading at the highest price to future earnings multiples in nearly a decade. Most analysts expect business to improve in 2020, aided by things like 5G technology and cloud infrastructure spending. But valuations are cause for concern, especially when accounting for lingering tariff uncertainty.
"It is challenging to argue that a good amount of the future return potential hasn't simply been pulled forward on hope," said Bernstein analyst Stacy Rasgon.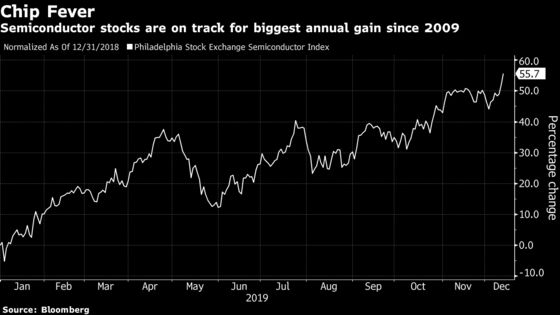 At the end of 2018, most of Wall Street saw little to get excited about in the semiconductor industry. Chipmakers had begun axing forecasts as customer orders slowed and inventories swelled as the U.S.-China trade war heated up. Despite all of that, the Philadelphia semiconductor index embarked on a relentless advance, logging just two down months the entire year.
The gauge that tracks 30 semiconductor-related stocks has risen 56% so far in 2019, which would be the biggest annual gain in a decade. That eye-popping number was aided by a brutal market sell-off at the end of 2018 that hit technology stocks particularly hard. Chip shares notched new highs Thursday after President Trump said the U.S. and China are "very close" to a "big" trade deal.
To keep the rally going, semiconductor companies will need to start posting better-than-expected financial results, according to Morgan Stanley analyst Joseph Moore, who was one of the first analysts on Wall Street to get cautious on the group in the second half of 2018. Moore now advocates holding a select group of stocks including Intel Corp. and Nvidia Corp., which he expects to benefit from higher cloud spending in 2020.
"The period where stocks are going to go up on bad numbers is largely behind us," he said in an interview. "If the numbers come up, then we can have some good performance. I don't think there's room for these multiples to come up too much more."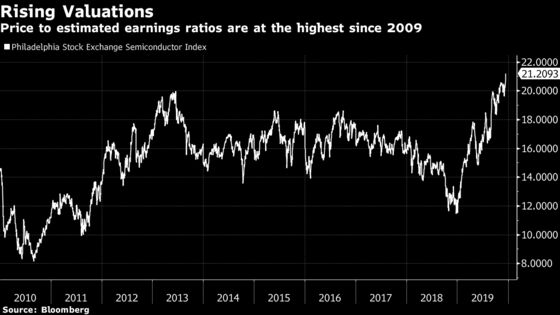 In that regard, the third quarter was a good start. With results in from all members of the chip benchmark except for Broadcom Inc., more than three-quarters of companies beat profit and revenue estimates, according to data compiled by Bloomberg.
Still other indicators are worrisome. Inventory levels for many chipmakers remain elevated, according to Moore, and tariffs haven't been resolved. U.S. goods on some electronics imported from China are set to increase on Dec. 15 if there's no trade deal.
Despite the trade uncertainty, 2020 is "looking decent" from a fundamental standpoint, according to Bloomberg Intelligence analyst Anand Srinivasan. He expects cloud spending to improve, 5G spending to kick in, and stability in mobile devices and personal computers.
"The growth themes that we have been positing are going to be manifested in 2020, particularly in the second half," he said. "We think it still could be a bumpy ride from a stock perspective but we feel optimistic about 2020."