Chinese Stocks in U.S. Surge After Hong Kong Peers Rebound
(Bloomberg) -- Chinese technology stocks listed in the U.S. are gaining for a third straight day on Thursday after peers in Asia rallied on improved risk appetite.
Shares in Tencent Holdings Ltd. jumped as much as 5.3% as of 10:01 a.m. in New York, while fellow technology giant Alibaba Group Holding Ltd. climbed 6.9%. Other tech shares including JD.com Inc., Baidu Inc., Pinduoduo Inc. and DiDi Global Inc. were among American depositary receipts rising at least 3%.
Chinese technology stocks rebounded from a record low in Hong Kong on Thursday amid signs of renewed interest in one of China's biggest tech names. The shift in sentiment was fueled by a report that Charlie Munger's Daily Journal Corp. had increased its Alibaba stake by 83% last quarter and that U.S. President Joe Biden was planning to meet with Chinese President Xi Jinping before the end of the year.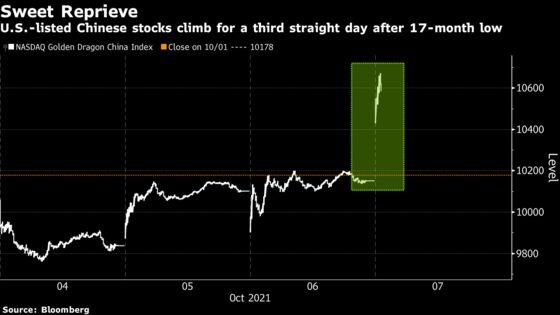 The Nasdaq Golden Dragon China Index -- which tracks 98 firms listed in the U.S. that conduct a majority of their business in China -- gained as much as 5.1%, the biggest jump since late August and taking its rally since hitting a 17-month low on Monday to more than 8%. Still, despite this week's brief respite, the gauge remains deeply in the red year-to-date, having fallen 31%.
Chinese assets have come under pressure amid a government crackdown on sectors including technology, property, after-school tutoring and gaming as part of President Xi Jinping's campaign for "common prosperity."
Investors will be closely watching how Mainland Chinese shares trade on Friday, with local equity markets set to reopen for the first time this week after being closed for the Golden Week holiday. While the holiday has provided a brief lull in Beijing's months-long regulatory clampdown, concerns remain that it could be set to resume now that it is over.