Chinese Stocks Rally Late; Unicom, Telecom Jump on Merger Report
(Bloomberg) -- Chinese shares rose sharply after a subdued morning, amid speculation investors are buying companies seen as oversold. Financial and technology companies led the advance.
The Shanghai Composite Index closed up 1.1 percent, its first gain in more than a week. Ping An Insurance (Group) Co. and 360 Security Technology Inc. were among the biggest boosts to the gauge. Hong Kong shares tracked the gains, with the Hang Seng Index rising 0.9 percent at the close. China Unicom Hong Kong Ltd. and China Telecom Corp. surged late in the day after Bloomberg reported that the government is exploring a merger of the wireless carriers.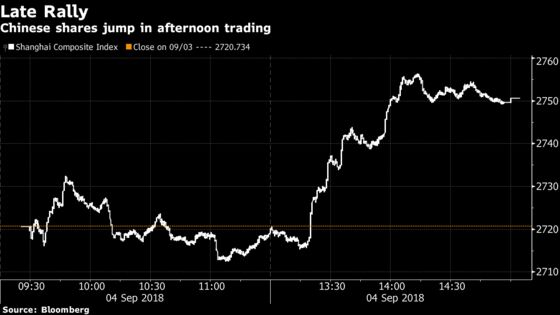 Chinese shares are among the world's worst performers this year. The onshore market has lost more than $2.4 trillion in value since its January peak as the U.S.-China trade war, signs of a slowing economy and weakening yuan weighed on investor sentiment. The Shanghai Composite is down 17 percent year-to-date, underperforming the MSCI All-Country World Index by the most in four years. The Chinese gauge hit a 2 1/2-year low last month.
Ping An Insurance climbed 3.3 percent in Shanghai, while 360 Security Technology jumped 9.7 percent and was among stocks that rallied most from 1:20 p.m., when the market began to turn. Net buying of mainland shares through the stock trading links with Hong Kong also picked up in the afternoon, with flow standing at 1.35 billion yuan ($198 million).
In Hong Kong, CK Asset Holdings Ltd. climbed 4.8 percent after saying it bought back 1.8 million shares for HK$100.2 million ($12.8 million). The stock gained the most since 2016. China Unicom led gains on the Hang Seng Index, advancing 5.9 percent, and China Telecom added 4 percent, erasing an earlier loss.