Chinese Stocks Are Suddenly the World's Best Trade in February
(Bloomberg) -- This month's hottest stocks are to be found in China, the first time the country can claim that victory since a boom almost four years ago.
In the 15 days they've been open in February, China's financial markets have delivered spectacular returns for equity investors. The tech-heavy ChiNext stands out with a 25 percent surge, its best month on record, with all 100 members rising. The Shanghai Composite has added 14 percent, better than any other major equity index worldwide and its widest outperformance relative to global stocks since April 2015.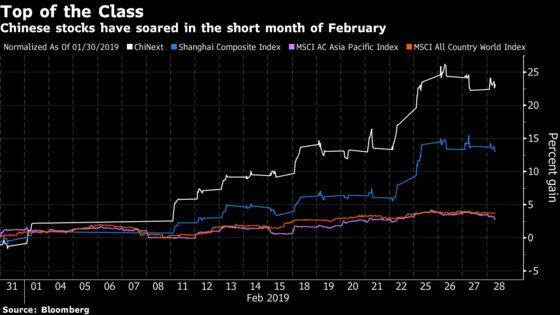 Optimism over China's relationship with the U.S. and a stable yuan are helping. But the extreme rally onshore speaks to a sudden change in sentiment in China, where investors have cheered the new securities regulator's more benevolent take on financial risk. Top policy makers are endorsing a focus on economic growth, prompting speculation they'll at least pause -- if not reverse -- a crackdown on leverage.
With the ChiNext, Shanghai Composite, Shenzhen Composite and CSI 300 Index all entering bull markets, daily trading turnover in the world's second-largest equity market climbed above 1 trillion yuan ($150 billion) to heights not seen since 2015. Foreign investors have been piling in at a record clip. The stellar performance has impacted the bond market, where the rally in Chinese government debt is faltering as investors redirect funds to stocks.
Industry-specific developments have fueled rallies in sectors from telecommunications -- 5G expansion and a huge order by China Mobile Ltd. for fiber-optic cable -- to agriculture, where stocks have surged as African swine fever drives up pork prices. Even after a Feb. 18 report that African swine fever was found in some of Sanquan Food Co.'s dumplings, the company still rose 3.9 percent this week through Thursday.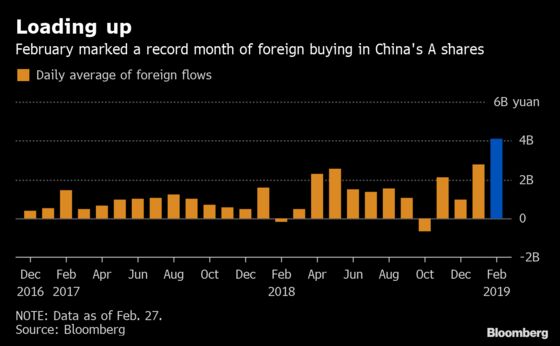 All of this has led to signs of overheating. Goldman Sachs Group Inc. this week said profit-taking pressure is likely in the near term given the sharp pace of the rally and some potentially weaker economic data releases. Any meaningful correction, however, could tee up more gains later in the year, Goldman analysts including Kinger Lau and Timothy Moe wrote.
The National People's Congress is approaching, which could give traders more cues. Momentum has faded after the Shanghai Composite fell short of the key 3,000 level, but the ChiNext continues to power along. It jumped 5.5 percent on the first day of this week, the most in nearly three years. The gauge posted its first loss in six sessions on Wednesday, before rising 1 percent Thursday.