Chinese Stocks Drop as Xi's Milestone Speech Disappoints Traders
(Bloomberg) -- Chinese equities declined as President Xi Jinping's speech on the country's four decades of reforms did little to lift sentiment.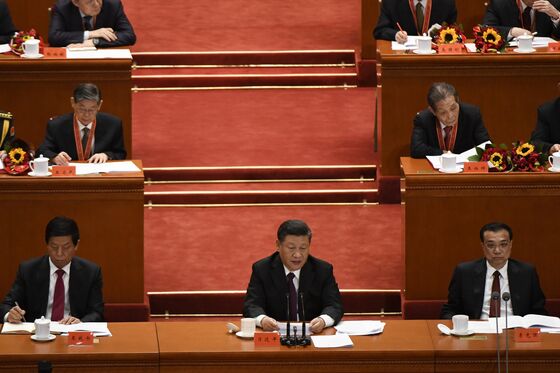 The Shanghai Composite Index closed down 0.8 percent, at its lowest since Nov. 29. The tech-heavy ChiNext gauge fell 0.5 percent and Hong Kong's Hang Seng Index dropped 1.1 percent, wiping out an early advance. Trading volume on the Shanghai gauge was almost 30 percent below its 30-day average, according to data compiled by Bloomberg.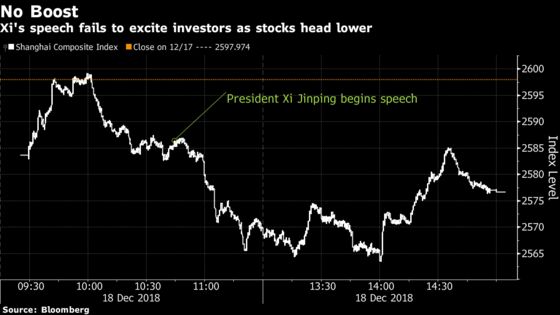 With no specific policies mentioned by Xi, "investors should wait for the Central Economic Work Conference for a policy tone and measures from the two meetings early next year," said Dai Ming, a Shanghai-based fund manager with Hengsheng Asset Management Co. "It takes time for these policies to be rolled out and really have an impact."
The annual economic policy gathering will take place later this week, an event that has fueled speculation the government will loosen policy to aid growth. Tax cuts may be top of the reform agenda for next year, the China Daily reported Tuesday, citing an unidentified tax administration official.
"A-share investors are normally conservative before such meetings," said Zhang Gang, a strategist with Central China Securities Co. in Shanghai. "It's still uncertain what kind of policies will be announced. It remains to be seen how much the government will cut taxes. Also the slump in U.S. stocks overnight has affected sentiment," he said.
Equity markets were lower across Asia in the wake of a sell-off in the U.S., where the S&P 500 Index closed at its lowest in 14 months. The MSCI Asia Pacific Index dropped 1 percent.
"Hong Kong and China stocks should have slumped to follow the U.S. at open, but they didn't, which was unusual," said Castor Pang, head of research at Core Pacific-Yamaichi International HK, adding that investors eventually took their cues from the U.S. to send stocks lower.
Other index and stock moves:
Shandong Gold Mining Co. among leading gainers on CSI 300 Index, rising 2.3%; PRECIOUS: Gold Holds Advance as Investors 'Wait Out This Storm'
CSI 300 -1%, Shenzhen Composite -0.8%, HSCEI -1.2%
Greentown China falls 11% in Hong Kong after plan to buy Aeon Life stake
Yuan up 0.04% against the U.S. dollar, paring 0.14% gain
Yield on China's 10-year government debt little changed at 3.38%