China Stocks See Muted Gains From Monday's $487 Billion Rout
(Bloomberg) -- There was no rush to buy the dip in Chinese stocks after their biggest rout in more than three years.
The Shanghai Composite Index closed up 0.7 percent after losing 5.6 percent Monday. The declines, which wiped out $487 billion from the value of Chinese shares, followed two tweets from U.S. President Donald Trump threatening to raise tariffs on Chinese goods this week over the pace of trade talks. His top trade negotiator late Monday confirmed the plans.
Shanghai shares reversed declines in the afternoon session after China's Ministry of Commerce said Vice Premier Liu He will visit the U.S. May 9-10 for another round of trade negotiations. Volume on the Shanghai measure was 29 percent lower than the 30-day average, suggesting there was little conviction in Tuesday's moves. The yuan erased an earlier decline to strengthen 0.04 percent versus the dollar at 4:18 p.m.
"Markets are shaky right now," said Yu Yingbo, investment director at Shenzhen Qianhai United Fortune Fund Management Co. "The uncertainties are still too many. Trump has taken advantage of the one factor that the Chinese government has little control over."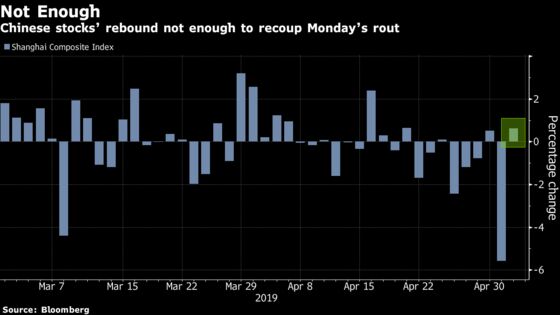 A gauge tracking China's technology shares, which have become trade-war proxies, added 1.2 percent Tuesday. They were hit particularly hard in Monday's selloff, losing 8.2 percent.
Optimism that China and the U.S. would reach a deal on trade helped make Shanghai equities the hottest in the world this year until last week. The benchmark has failed to hold above a number of key support levels as popular trades unraveled amid lackluster corporate earnings and concern Beijing is easing back on stimulus.
State-backed media has sought to downplay the rout: there was barely any mention of the stock tumble on Tuesday. An article published by the China Securities Journal, one of the country's most widely circulated financial dailies, argued that the bull market will resume. Only one Chinese-language newspaper featured escalating trade tensions on its front page.
The Shanghai Composite closed at 2,926 points, below the key 3,000 level that acted as a support last month. PetroChina Co. and Industrial and Commercial Bank of China Ltd. -- which saw sharp moves in late trading Monday amid speculation Chinese state funds were stepping in to support the market -- were among the biggest drags in Shanghai. Shenzhen stocks fared better, with the benchmark gaining 1.6 percent.
The Hang Seng China Enterprises Index advanced 0.2 percent in Hong Kong, while the city's equity benchmark increased 0.5 percent.
There is an at least 30 percent chance that the U.S. and China will fail to reach a deal to end the trade war, Jefferies Financial Group Inc. analysts wrote in a note dated Monday. The danger is that both sides may believe their negotiating position has strengthened and may be less willing to compromise, they wrote.
"The market won't be trading with a clear direction in the near term," said Zhang Gang, a Shanghai-based strategist with Central China Securities Co. "There will definitely be more twists and turns along the way before both parties reach a trade deal that everyone wants to see. The market could still be impacted in the short term."