China Stocks Slump as Huawei Shakes Sentiment, Drugmakers Plunge
(Bloomberg) -- A gauge of Chinese stocks in Hong Kong posted its biggest two-day drop in 10 months as the arrest of Huawei Technologies Co.'s chief financial officer dealt fragile investor sentiment another blow and deepened uncertainty over China's relations with the U.S.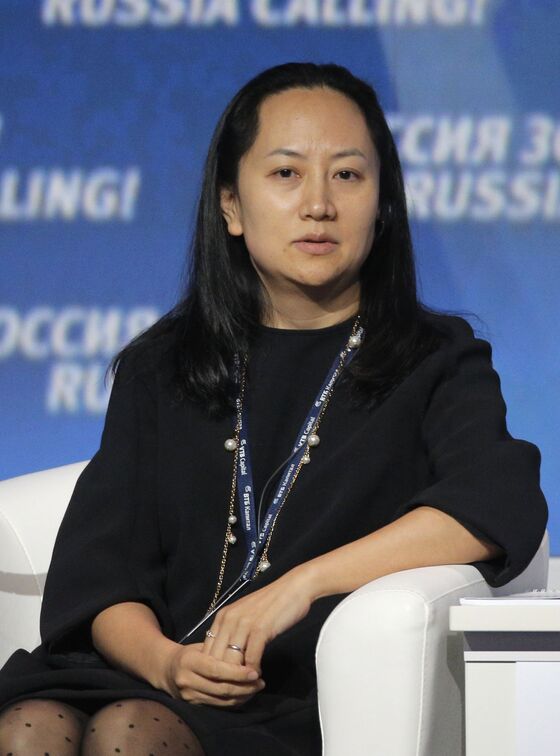 The Hang Seng China Enterprises Index dropped 2.6 percent, while the Shanghai Composite Index fell 1.7 percent. Technology stocks were among the hardest hit in both markets as Huawei suppliers tumbled. Huawei CFO Wanzhou Meng is facing extradition to the U.S. after her arrest in Vancouver in connection with potential violations by the company of American sanctions on Iran, according to Canada's Department of Justice. Drugmakers tumbled amid concern over price cuts, while the yuan fell for a second day.
"The news on Huawei comes at a bad time when investor sentiment is weak" and when there's lack of reasons to buy the market toward year-end, said Toshihiko Takamoto, a Singapore-based money manager at Asset Management One. "The consensus is that this trade war may drag on for 10 years."
Chinese drug stocks fell the most since 2009 as investors worried the government is driving down prices for their products via a centralized procurement program. The MSCI China Health Care Index plunged 8.4 percent, with Sino Biopharmaceutical Ltd. sliding 16 percent. CSPC Pharmaceutical Group Ltd. and Genscript Biotech Corp. lost more than 11 percent.
The Hang Seng China measure dropped 3.9 percent over two days. Hong Kong's benchmark Hang Seng Index retreated 2.5 percent on Thursday, with AAC Technologies Holdings Inc. and Huawei supplier Sunny Optical Technology Group Co. declining more than 5 percent. ZTE Corp. slid at least 5 percent in Hong Kong and in Shenzhen.
The news on the Chinese tech giant adds to investor skepticism over the progress of China-U.S. trade relations. While selling pressure eased on Wednesday following China's pledge to move quickly on U.S. trade commitments, doubts remain over whether there's been any real breakthrough. When concern flared in November that the U.S. was ramping up a campaign against Huawei, the Shanghai Composite Index slumped, with technology shares heavily hit.
Other index, stock moves:
Shenzhen Composite Index -2.2%, CSI 300 Index -2.2% with telecom shares the biggest decliners
Other Huawei suppliers: O-film Tech -4.5%, GettopAcoustic -8.2%
10-year sovereign bond yield little changed at 3.32%, the lowest since April 2017
Foreign investors sells onshore stocks via Hong Kong trading links for the first time in nine days, offloading 4.2b yuan