China Firms Halt Dividends, Sell Equity to Ride Out Pandemic
(Bloomberg) -- In this era of pandemic uncertainty, Chinese and Hong Kong-listed firms have come to one consensus on how to best survive it: sit on their wallets and preserve cash.
They are retaining profits instead of distributing them to shareholders, with the most Hong Kong dividend payers in at least 35 years opting not to do so in the first quarter. Meanwhile, though valuations recently reached a historical low in the city, firms haven't picked up their stock-repurchase pace. Instead, sales of additional stock are near their highest since 2018.
The data help illustrate how the pandemic has distressed the corporate side of China's economy, which contracted to start 2020, the first quarterly decline in decades. Beijing has resorted to a long list of measures to counter the fallout from the coronavirus, but so far has shown little appetite for stimulus on the scale unveiled in the U.S. or Japan even as profits slump and debt repayment pressures build.
"Most companies are preserving cash to survive the pandemic, as no one has the answer as to how long it'll last. Right now cash is king," said Chen Li, chief economist at Soochow Securities Co. "They are in need of more aggressive stimulus and support policies, and apparently China hasn't done enough on that front."
Stocks have priced in the lost business from the pandemic, and Chen said buybacks and dividends would likely do little to help share prices in this environment.
There were 126 Hong Kong-listed dividend payers which decided to not make a distribution in the first three months of this year, the most for any quarter since 1985, the start of relevant data compiled by Bloomberg. About half of the firms are based in China while at least 60% count the country as its biggest source of sales. The total doesn't include HSBC Holdings Plc and Standard Chartered Plc, which on April 1 were among the British banks that scrapped dividends for 2020.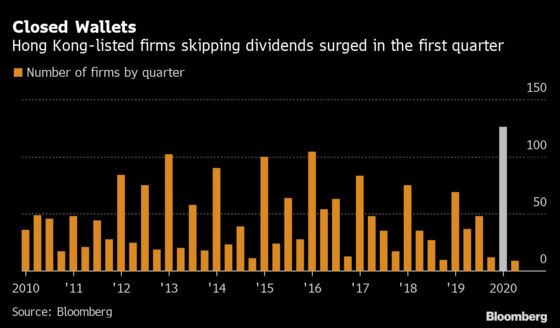 Meanwhile, as of Monday afternoon 121 Chinese-listed firms had said in April they're skipping a dividend payment. That's the highest monthly total in a year.
Stock repurchases tend to signal management optimism about a company's shares, and prior buyback jumps since 2008 in Hong Kong corresponded with bottoms for the Hang Seng Index. But there's been no repurchase spike yet. Reducing cash isn't something a company is wont to do if executives are worried about their business' operation or liquidity -- no matter how cheap the equity is trading.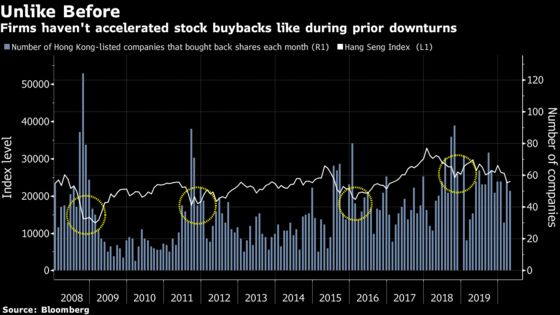 Meanwhile, companies selling additional stock has often signaled that officials believe shares are richly valued, with the cost of equity for a firm usually higher than the cost of debt. As such, equity financing tends to be a less-preferred tool if a company has other means to raise cash. In April, 15 firms and their shareholders in Hong Kong have sold equity via placements, the most since January. The $3.8 billion raised is also the second-highest monthly total in two years.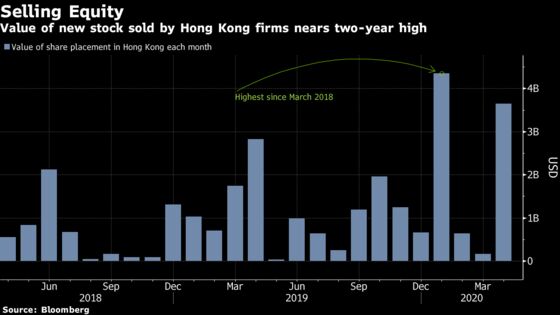 Adding to the bearish signs from companies scaling down cash payouts and offering equity, corporate insiders at firms in the MSCI China Index are on pace to extend their net sales of shares into a fifth month. Officials at the firms sold a net 125.6 million shares as of Monday, the most since February, according to data compiled by Bloomberg.