China's Drugmakers Plunge Most Since 2009 on Price Concerns
(Bloomberg) -- Chinese drug stocks dropped the most in a decade amid concern the government is driving down generic drug prices through a centralized procurement program.
CSPC Pharmaceutical Group Ltd., which is bidding to provide drugs to Chinese cities in the program, tumbled 14 percent at the close in Hong Kong Thursday, its biggest decline since 2008. Sino Biopharmaceutical Ltd. dropped almost 16 percent. The MSCI China Health Care Index fell 8.4 percent, the biggest decline since 2009.
Prices were cut substantially on drugs included in a government procurement list for orders from 11 major Chinese cities, the Shanghai Securities News reported, citing preliminary tender results. One hepatitis B drug saw a price cut of 90 percent while another made by Jiangsu Hengrui Medicine Co. was reduced by 60 percent, according to the report.
Domestic and foreign pharmaceuticals have opposed the centralized procurement plan since it was announced last month. While the government wants participating cities, including Beijing and Shanghai, to make purchases together to control costs, drugmakers such as France's Sanofi said the program would create an over-reliance on the winning bidder for the supply of a drug, potentially causing quality and supply issues.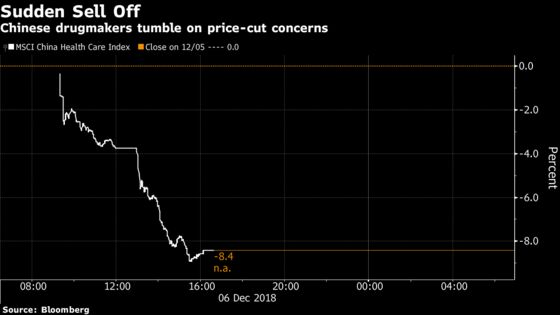 The selloff was fueled by speculation that one company had to lower its price by as much as 90 percent to win the bulk-buying bid, said Kelvin Chen, a Bocom International analyst. That triggered concern that companies involved in the bulk purchase scheme would have to massively cut prices to win orders.
The competitive process to win bids would also push prices sharply down, eroding companies' profits. Now that reports are emerging that the price cuts are even deeper than expected, domestic pharmaceutical investors are in a panic, said UOB Kay Hian analyst Steven Leung.
"Investors are reacting not just to this round of news, but to the possibility that this is the direction that the government is going -- more cities will join the scheme and even more drugs will come under tender," he said. The Chinese government had said that this tender round, which involves 31 drugs, was a pilot project.
While domestic pharmaceuticals that rely on generics will bear the brunt of the price cuts, foreign drugmakers like Pfizer Inc. and Sanofi are also likely to see weaker demand for some of their medicines.
According to an analysis by Bocom International's Chen, Atorvastatin -- the generic name for Pfizer's cholesterol blockbuster Lipitor -- is currently provided by three pharmaceuticals to Chinese hospitals: Pfizer, Jialin Pharmaceutical Co. and Henan Topfond Pharmaceutical Co. After the tender process, only one provider will win the supply contract, likely at a drastically lower price.
CSPC, Sino Biopharmaceutical, Jiangsu Hengrui and Sanofi didn't immediately respond to requests for comment. The National Health Commission, which oversees the drug buying program, couldn't be immediately reached for comment.