Chinese Developer Yango Scrambles to Avoid Missing Bond Payment
(Bloomberg) -- Investor focus is on Chinese developer Yango Group Co., as it scrambles this week to win bondholder approval to delay upcoming payments and avoid default. 
Having warned creditors that it may be unable to pay bonds at maturity without more time, unit Yango Justice International Ltd. signaled the firm's tight liquidity when it proposed a debt exchange for new notes due in September next year. Wednesday marked the latest deadline for owners of three separate notes totaling $747 million to vote on the proposal. 
Its 5.3% dollar note due 2022 has plunged from around par in September to around 26 cents on the dollar. While Yango's borrowings are less than those of peer Kaisa Group Holdings Ltd., its $2.2 billion of dollar bonds are trading in distressed territory, amid a historic crisis that began at China Evergrande Group and has since engulfed the broader sector. 
Shanghai-based Yango Group, which guarantees the Yango Justice bonds, has a focus on green projects. It is China's 18th-largest builder by contracted sales this year, according to China Real Estate Information Corp. It operates in more than 100 cities across the country, according to its website.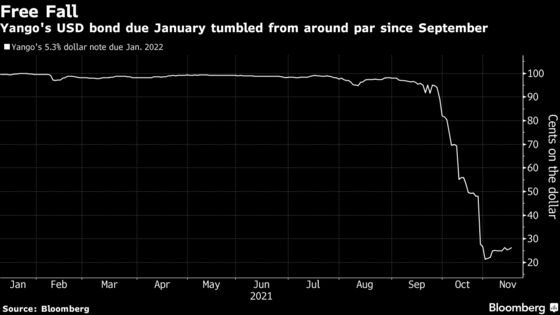 Yango Justice has sought to extend three of its dollar bonds, including a 2023 note whose holders have the right to demand that the firm repurchase their bonds. It warned in a filing that it "may not be able to repay" existing bonds at maturity without more time. 
The put option date on the 2023 dollar note passed on Friday without the company paying holders who had exercised that option, according to a Nov. 15 filing.  
Yango has warned that any buyback requests might be defaulted on, which in turn could trigger a cross-default on its other debt. If that happens, the company would be the largest Chinese developer by sales to miss a dollar bond payment since stress erupted in the nation's credit markets earlier this year, according to data compiled by Bloomberg.
The financial health of China's developers remains a major concern, amid a surge in junk bond yields that has all but shut out lower-rated firms from fundraising in the offshore market. Slowing home sales and other regulatory restrictions are adding to the cash squeeze.
A selloff that began with Evergrande five months ago has spread rapidly as Xi Jinping's government tries to purge financial excess from China's highly-indebted real estate sector. While speculation Beijing will act to ease market pressures offered a recent boost to sentiment, investors are bracing for more pain.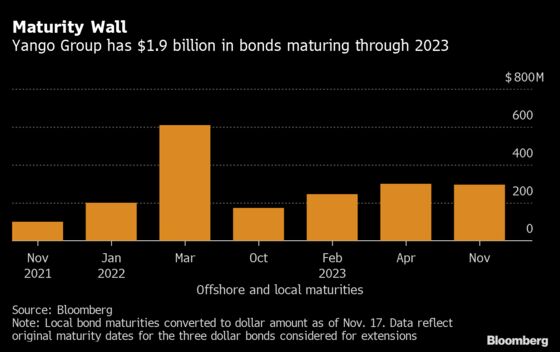 What does the company say?
In a Nov. 1 exchange filing, the developer cited tighter government policy, deteriorating consumer sentiment and "multiple credit events" that led to the closing of refinancing venues that have "put pressure" on its short-term liquidity.
In its financial results for the third quarter, Yango reported a loss of 1.75 billion yuan ($274 million) after deducting non-reccurring items, compared to a profit of 1 billion yuan for the same period in 2020. Total liabilities grew 7.9% to 316 billion yuan.
Yango Holdings, a company controlled by Yango Group Chairman Lin Tengjiao, has sold part of its stake in Industrial Bank Co., Cailian reported, citing unidentified people. Lin also resigned as a director at the commercial lender, according to a Shanghai stock exchange filing from the bank. 
Yango Group did not immediately respond to multiple Bloomberg requests for comment. 
What do rating agencies say?
Yango has been subject to downgrades into junk territory. Moody's Investor Services cut the company by three notches to Caa2 on Nov.1, citing Yango's "increased liquidity risk because of its weakened cash buffer, large near-term debt maturity and constrained access to funding." It placed the firm on review for further action on doubts surrounding its ability to repay debt maturing or becoming puttable in the next 6 to 12 months. 
Fitch Ratings downgraded the firm to C from B- a day after Yango announced the offer, which Fitch said it considers a distressed debt exchange. 
What are traders watching for next?
Yango will soon learn whether bondholders agreed to delay upcoming payments, giving the company more time to bolster liquidity and avoid default. 
The company extended the expiration deadline for its dollar bond exchange offer and consent solicitations to Wednesday.