Militants Assault China's Consulate in Pakistan's Biggest City
(Bloomberg) -- The Chinese consulate in Karachi was assaulted by militants on Friday in an attack that killed at least seven people in Pakistan's largest city and financial hub.
An explosive-laden vehicle was driven outside the consulate and in an exchange of fire two policemen guarding the building and all three assailants were killed, Amir Shaikh, a senior police official, told reporters in Karachi. Two civilians collecting visas also died. Pakistan's Foreign Minister Shah Mahmood Qureshi later told lawmakers in Islamabad that a suicide bomber had detonated explosives while trying to enter the building.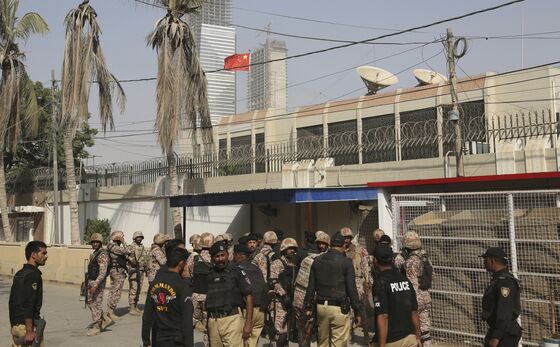 Ghazal Javed, an official at the Chinese consulate, said by phone that all staff were safe. Black smoke was seen rising from the city's upmarket Clifton area, a supposedly secure neighborhood in the tumultuous metropolis that's home to a number of diplomatic missions, elite residences and restaurants.
The incident is the second major attack this year on Chinese officials in Karachi, a megacity of at least 15 million people in a country that is one of the key partners in China's Belt and Road initiative. In February gunmen killed Chen Zhu, a shipping executive, in the city's posh Zamzama district. The violence has raised concern in Beijing, which is financing infrastructure projects valued at about $60 billion in Pakistan.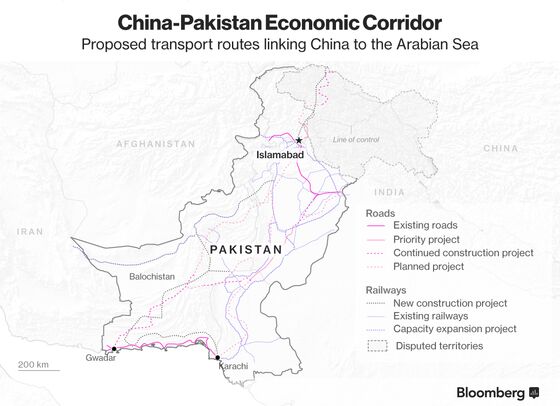 "This attack is meant to drive up some fear into the Chinese," said Ikram Sehgal, a former military officer and chairman of Pathfinder Group, Pakistan's largest private security company. "This is very clearly the intention."
The raid will come as a shock to China and Pakistan's armed forces, which have beefed up security across the South Asian nation after a number of military operations targeting terrorist groups since 2013. Pakistan's army has also raised a 15,000 strong force to protect the Chinese projects and has curtailed the movement of workers at those sites who aren't allowed outside without an armed escort.
Beijing has become increasingly vocal over the risks in Pakistan. In December last year, its embassy in Islamabad warned of imminent terror attacks on Chinese targets. That followed the Islamic State-claimed killings of two Chinese teachers in June 2017 in the restive southwestern province of Balochistan, where China is building a port.
"China has requested Pakistan to take measures to make sure the safety of Chinese citizens and organizations," Geng Shuang, a foreign ministry spokesman, said at a daily briefing in Beijing on Friday. "China believes that Pakistan will take measures to make sure that China-Pakistan Economic Corridor proceeds smoothly," he said, referring to the local branding of Belt and Road in Pakistan.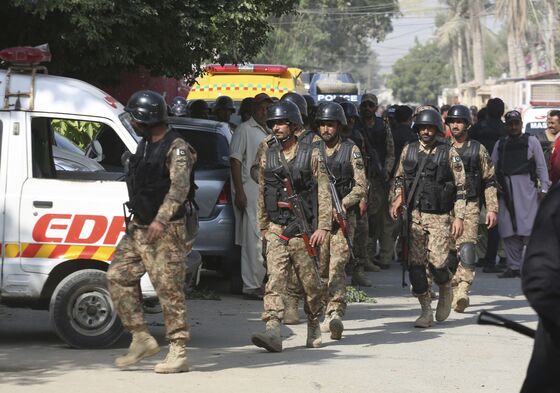 Pakistan's Foreign Ministry spokesman Mohammad Faisal told reporters in Islamabad that it is too early to know who is responsible. Reuters reported that the Balochistan Liberation Army, a separatist movement in the restive province neighboring Karachi, claimed the attack. Prime Minister Imran Khan called the assault a "conspiracy" against economic cooperation between the two countries.
India, which Pakistan routinely accuses of fomenting separatist unrest in Balochistan, "strongly condemns the terrorist attack," the foreign ministry in New Delhi said in a statement. "The perpetrators of his heinous attack should be brought to justice expeditiously."
The last attack on a Chinese mission was an attempted car bomb in Bishkek in 2016 that killed the perpetrator and injured three embassy officials. Krgyz authorities at the time said the attack was ordered by Muslim Uighur militants. China is said to be holding up to one million Uighurs in camps in an ongoing crackdown on the minority, millions of whom live in its far west.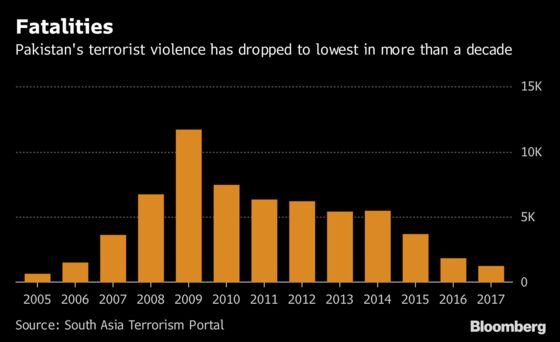 China's influence has increased across Pakistan in recent years. Islamabad has also pivoted to Beijing as relations with the U.S. are increasing strained under President Donald Trump, who canceled military aid to Pakistan this year. Trump has repeatedly accused Pakistan of sheltering insurgent groups who operate in Afghanistan -- a charge refuted by Pakistani government and military officials.
Yet resentment toward the Chinese is also rising. Critics say Beijing is ensnaring Pakistan in so-called "debt diplomacy" by granting opaque loans that Islamabad will find difficult to repay as it faces a balance-of-payments crisis. Pakistan is currently negotiating a bailout with the International Monetary Fund.
Many Pakistani firms also grumble about the preferential treatment being meted out to Chinese businesses since 2015 when President Xi Jinping first launched the China-Pakistan Economic Corridor.
Friday's attack is "a very high profile attempt which failed but nevertheless it causes concerns" that there are people opposing China's mega projects in Pakistan, said Hasan Askari Rizvi, a Lahore-based political analyst and former government official.