China Spurs Share Buybacks as Latest Tool to Rescue Market
(Bloomberg) -- Add share buybacks to the long list of measures that China has announced to stem a rout in its stock market, the worst performing in the world this year.
After a faster-than-usual revision to existing law, companies can now repurchase shares with approval from at least two-thirds of the board if deemed necessary to protect shareholders' interests, or to fund convertible bond exchanges, the National People's Congress said Friday. Firms were previously only allowed to buy back shares for more limited purposes including stock incentives, and had to get shareholder approval. China will encourage buybacks by listed companies, the nation's securities regulator said Tuesday.
Many are already jumping in. Real-estate company Xinhu Zhongbao Co. and Meisheng Cultural & Creative Corp. briefly soared on Monday after saying late Sunday they will repurchase shares. Xinhu climbed 1.3 percent at the break in Shanghai on Tuesday, while Meisheng slid 2.6 percent.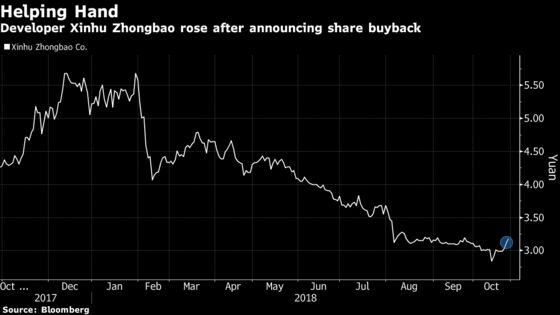 The new law allows companies to react much faster during market corrections, China Galaxy Securities Co. wrote in a report Monday, adding that long processing times made it much less common for firms to conduct buybacks compared with those in Hong Kong and overseas.
The Shanghai Composite Index fell 2.2 percent Monday and then rose as much as 1.3 percent Tuesday.
The Shanghai Composite has fallen more than 22 percent this year and is in line for its worst annual performance in a decade, battered by the trade dispute with the U.S., signs of a slowing economy and a weaker yuan. That's prompted the government to announce measures to restore confidence, promising support for the private sector and easing share-pledging risks.
China Shares Slide Again as Earnings From Moutai and Peers Weigh
The swiftness of pushing the buyback policy through reflects China's determination to rescue the market, Hao Hong, chief strategist at Bocom International Holdings Co., wrote in a note Monday. It is unclear whether changes to share repurchase rules will be effective, as net cash that can be used for buybacks is limited, he said.
At least 41 listed companies on Sunday announced new share buyback proposals, changes to existing plans or progress on previous plans, the Securities Times said on Monday, citing its own calculations. The total amount to be spent is as much as 16.8 billion yuan, the report said.