Equity Bulls Are Abandoning Hong Kong as China Turmoil Mounts
(Bloomberg) -- Valuations have cratered, earnings estimates are down and forecasters are slashing their targets on Hong Kong's stock market, which has gone from darling to pariah in under half a year.
While investors the world over worry about a tumbling yuan and the Federal Reserve's plans to lift borrowing costs, the brunt of the impact is increasingly felt in a city that is entwined with both. The Hang Seng Index fell 1.1 percent Wednesday, its second day of losses, as yet another sign that China's economy may be slowing faster than expected added fuel to the selloff and took multiples to two-year lows.
The Hang Seng Index's best quarterly winning streak since 1996 has ground to a painful halt, punished by companies' reliance on China for profits, Hong Kong's ties to U.S. monetary policy and a loss of love for favorites like Tencent Holdings Ltd. After five quarters of gains and hitting a record high in January, the benchmark posted a loss in the three months through June.
"It's getting ugly," said Stephen Innes, head of trading for Asia Pacific at Oanda Corp. in Singapore, who was bullish on Hong Kong stocks until March. "China data just continues to sour and the yuan is bringing up memories of 2015. Whether we could see capital outflows is a question nobody thought they'd be asking. Hiding in cash is the only way to go now."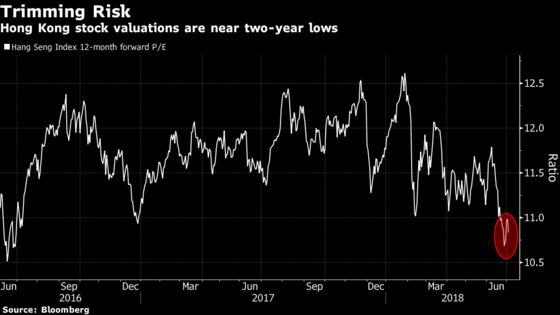 Bulls are losing faith in a market that treated them with some of the world's best returns in January, when even the pessimists were calling for only a temporary pullback. International investors, who piled into funds tracking Hong Kong and offshore-listed China stocks for 17 straight weeks, have withdrawn almost $4 billion since early June, according to China International Corp.'s Hanfeng Wang and Yingqi Lin.
A glut of large initial public offerings is also threatening to undermine existing shares, as billions of dollars in new stocks may draw more liquidity from the market. Xiaomi Corp., which raised $4.7 billion after pricing its initial public offering at the low end, expects to begin trading on July 9. Meituan Dianping is targeting an IPO in Hong Kong that may raise as much as $6 billion, while China Tower Corp.'s listing could match the city's biggest since 2010.
Stocks in Hong Kong have still held up far better than those on the mainland, remaining in the green throughout most of 2018 until the yuan's descent accelerated in mid June. Strategists still see a rebound in the second half, though many have tempered their projections for the city's benchmarks, including Nomura Holdings Inc. and Morgan Stanley.
"I wish I had been more negative in January, when it was clear that Hong Kong markets were getting frothy," said Wendy Liu, head of China equity research at Nomura. "The question we're getting is whether China economy is about to collapse or not -- we need more data to gauge that."
Investors are paying less than 11 times projected earnings for the Hang Seng Index -- a multiple that's about 5 percent lower than its 10-year average. Earnings expectations have started to falter, after their resilience in February acted as a support against further losses in a global selloff. Morgan Stanley says members of the index generate an average 60 percent of their earnings in yuan, which is one of the world's worst performing currencies over the past month.
Adding to the pressure is a buyer's strike from Shanghai, where investors have been net sellers of Hong Kong stocks for three consecutive months through exchange links with the city. Also, a currency peg with the U.S. is driving up the cost of borrowing: Hong Kong's one-month interbank rate is topping 2 percent for the first time since 2008.
With a June 2019 target of 27,200 points for the Hang Seng Index, or 4.7 percent below Tuesday's close, Morgan Stanley believes the selloff in Hong Kong has room to run.
"It's a combination of multiple factors: yuan weakness, trade uncertainty, expectations for four Fed rate hikes and the tightening liquidity situation in China," Morgan Stanley equity strategist Laura Wang said by phone from Hong Kong. "We're not expecting any immediate change to any of those. Even southbound flows have turned."