China Turmoil Batters Last Emerging-Market Haven
(Bloomberg) -- Emerging-market currencies are looking uglier by the day as a week-long slump in China's yuan saps confidence in peers around the world.
India's rupee touched an all-time low, South Africa's rand is on the cusp of 14 to the dollar and the Indonesian rupiah is having its worst day since October 2015 on the eve of a key central bank meeting that now looks likely to result in another hike in rates. The MSCI index of developing-nation stocks is heading toward a bear market, retreating for a fourth straight day, as the Shanghai Composite Index closed at a one-year low. Average yield spreads of sovereign bonds over U.S. debt are near a two-year year high.
The downdraft leaves emerging markets poised for their worst quarter since 2015, and now the rout that had been largely limited to the most vulnerable economies is starting to ensnare larger ones. Nowhere is that more apparent than in China, the world's second-biggest economy, where the currency's sudden retreat has triggered speculation authorities are allowing it to weaken to hit back at the U.S. in a deepening trade war.
As Anastasia Amoroso, a strategist at JPMorgan Private Bank in New York, puts it in a Bloomberg Television interview, China "was a bit of a safe haven when you looked at the emerging markets space and the fact that it's now wrapped up in this turmoil does not at the moment bode well for the entire asset class."
MSCI's index of emerging market currencies declined for a fourth day on Thursday to head for its worst month in more than two years
Indonesia's rupiah fell 1.5 percent against the dollar, the most among 24 major emerging currencies tracked by Bloomberg
The Shanghai Stock Exchange Composite Index, China's main gauge for equities, fell for a fourth day to head for its sixth week of losses; it's at its lowest level since March 2016
Brent crude oil rose 0.7% to $78.17, piling more pressure on importers such as India and Turkey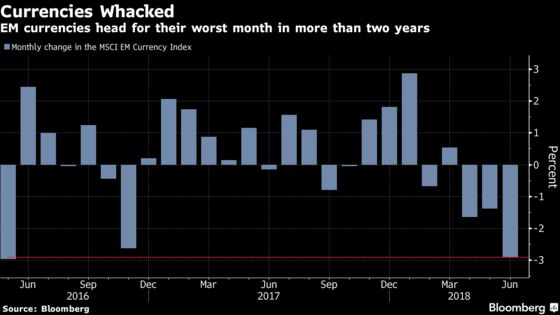 A leaked report from a Chinese government-backed think tank warned of the potential for "financial panic" in the economy, a sign that concern among some members of the nation's policy elite is growing. The government in Beijing upped the ante on Thursday, with the Commerce Ministry saying that restrictions on U.S. exports to China -- of sensitive technologies that the government wants to protect -- will backfire and hamper President Donald Trump's ability to lower a trade deficit.
The yuan depreciated for a sixth day, extending its decline past 6.60 per dollar, its weakest level since December. Macquarie Group said the slide isn't over, with authorities likely to allow it to reach 6.70 per dollar.
The yuan's weakness "has fueled concerns that the U.S.-China trade war could evolve into a currency war," analysts at DBS Bank led by Philip Wee in Singapore wrote in a research report.
Asian stocks, especially those of nations most exposed to China through commerce, were pummeled. The MSCI AC Asia ex Japan Index closed down 0.7 percent. Indonesian stocks were the world's performers, dropping 2.1 percent to their lowest level in more than a year.
Aside from the rupiah, South Korea's won, Taiwan's dollar, Thailand's baht and Malaysia's ringgit also dropped.
Currency weakness and higher U.S. Treasury yields are prompting central banks from Indonesia to Turkey, Brazil and South Africa to turn more hawkish. Indonesia's Governor Perry Warjiyo has vowed to be "pre-emptive" with monetary policy and the nation could see its third rate hike since mid-May on Friday.
Turkey's monetary authorities have increased interest rates 500 basis points since April to stem a rout in the lira and rein in local-currency yields, which with an average of 17 percent are only lower than Argentina's. The South African Reserve Bank said this week it has little room to loosen monetary policy, even though the economy shrank in the first quarter.
"Central banks are responding in an orthodox way," said Timothy Ash, an emerging-market sovereign specialist at Bluebay Asset Management in London. However, "if concerns over a trade war hit global growth and then this feeds through into commodities, then we might have a proper emerging-market bear market."