China Stocks Are Turning Hot Again and Luring Foreign Investors
(Bloomberg) -- China's stock market is starting to sizzle again, and that's drawing in foreign investors.
The Shanghai Composite Index climbed 3.9% this week, its best performance since June, while the small-cap ChiNext gauge is on the brink of a bull market. Overseas investors pumped a net 28 billion yuan ($3.9 billion) into the nation's domestic stock market via exchange links this week, the most since November.
After the market closed, the central bank lowered the amount of cash banks must hold as reserves -- an easing move likely to spur further stock buying on Monday.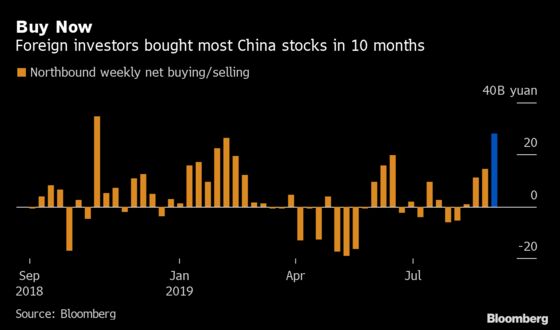 The timing of the reserve ratio cut is "perfect," said Du Kejun, a partner at Beijing Gelei Asset Management Center Limited Partnership. "Uncertainties are just starting to clear up and market confidence is slowly gathering, as seen in the rising volumes over the past week."
The upbeat sentiment is a turnaround from a month ago, when a sudden plunge in the yuan helped sparked a sell-off in Shanghai shares. Positive news on the trade war, with China and the U.S. saying they are ready to restart talks, signals from Beijing that stimulus is on the way, and a concession by Hong Kong's government to appease protesters all helped trigger buying.
The value of shares traded on China's stock exchanges jumped to a more than four-month high on Thursday. Buying momentum is the highest since April, according to a relative strength index.
The required reserve ratio for all banks will be lowered by 0.5 percentage points, taking effect on Sept. 16, the People's Bank of China said on its website Friday. The PBOC also cut the RRR by one percentage point for some city commercial banks, to take effect in two steps on Oct. 15 and Nov. 15. The cuts will release 900 billion yuan of liquidity, it said.
Futures on the FTSE China A50 Index climbed 0.5% at 5:52 p.m. local time.
"The stock market is in a good position to attract further northbound inflows, thanks to the policy boost, better liquidity expectations and stronger risk appetite," said Mark Huang, an analyst at Bright Smart Securities.