China Stocks Rise on Tariff Delay After Yuan Surges Past 7
(Bloomberg) -- Stocks in China and Hong Kong pared earlier advances as relief that the U.S. will delay imposing tariffs on some consumer goods was tempered by weak economic data. The yuan climbed the most since June 20.
The Hang Seng Index overcame an afternoon wobble to close 0.1% higher, rising for the first time in four days, while protests thinned at Hong Kong's airport after further flight cancellations Tuesday. Stocks in mainland China clung to gains amid relief the Trump administration will delay imposing tariffs on some consumer goods until December.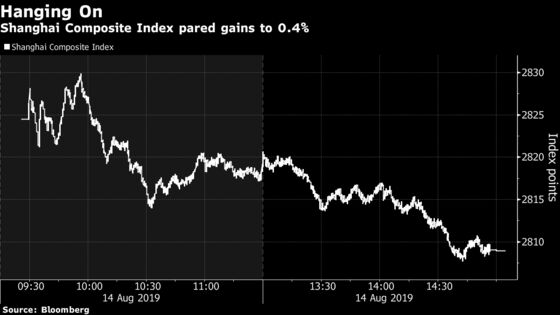 The equity markets managed to shrug off data showing Chinese industrial output growth in July was the weakest since 2002, and retail sales also declined. Technology companies were among the best performers, with Lens Technology Co.'s 7.9% rise leading gains on the CSI 300 Index. In Hong Kong, Cathay Pacific Airways Ltd. rose 2.8%, a day after being cut to a "strong sell" by the investment banking arm of China's biggest lender.
"Investors should know by now that things could turn for the worse in the future -- trade developments alone won't be enough to drive a stocks rebound if the economy shows no sign of stabilization," said Zhang Gang, Shanghai-based strategist with Central China Securities Co.
The yuan rose after gains in the offshore rate, which briefly rallied back beyond 7 versus the greenback overnight after the tariff delay brought some relief to markets. When Donald Trump threatened the duties early this month, Chinese shares slid and the currency subsequently breached the key 7-per-dollar level for the first time in more than a decade. The offshore yuan fell back 0.34% Wednesday, trading at 7.0361 per dollar at 4:33 p.m. local time.
Investors are cautious as a resolution to the trade dispute remains uncertain and many Chinese imports remain on the list to be hit with tariffs on Sept. 1. Protracted tit-for-tat negotiations threaten to derail global growth and ignite a currency war, while political unrest in Hong Kong shows little sign of easing after weeks of protests that have become more violent and disruptive.
The onshore yuan rose 0.58% to 7.0149 per dollar after the People's Bank of China set the daily reference rate stronger-than-expected.
"The PBOC has been fixing the onshore yuan at a stronger-than-expected rate for a few sessions now," said Hao Zhou, senior emerging markets economist at Commerzbank. "Policy makers are still keeping a grip on the Chinese currency. However, given there is little hope of any solid trade deal. The 7 per dollar level seems to be the new normal for the yuan."