China Stocks in U.S. Slide as Alibaba Adds to Earnings Woes
(Bloomberg) -- U.S.-listed Chinese stocks slumped for a second straight day on Thursday as lackluster guidance from one of China's largest companies furthered soured investor sentiment.
The Nasdaq Golden Dragon China Index fell 3.2%, adding to Wednesday's drop, as Alibaba Group Holding Ltd. plunged 11% after its revenue outlook for the 2022 fiscal year came up short of analyst estimates. Other companies that reported results this week like video-streaming platform operator Bilibili Inc. and online discount-retailer Vipshop Holdings Ltd. fell by more than 17% each, dragging the gauge lower.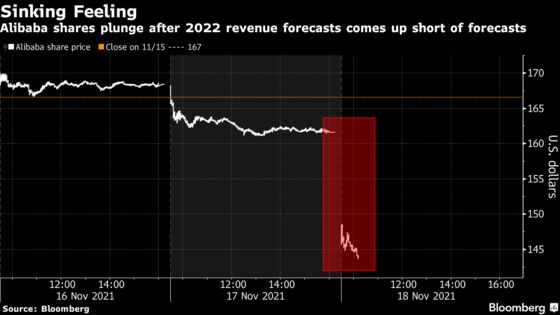 The e-commerce behemoth's worse-than-expected outlook adds to what has been an extraordinarily trying year for Chinese stocks. A sweeping regulatory crackdown in Beijing and a resurgence in coronavirus cases across the country has created a difficult operating environment for many of the nation's firms. 
"There has been the growing concern that the domestic consumption transition for China is not as strong as they would like it to be," said Ed Moya, senior market analyst at Oanda Corp.
Other Chinese stocks listed in the U.S. are reporting similarly troubling results this quarter. Last week, Tencent Holdings Ltd. reported its slowest revenue growth since 2004. Forty companies tracked by Bloomberg on the Golden Dragon index have missed analysts' earnings forecasts by an average of nearly 4%.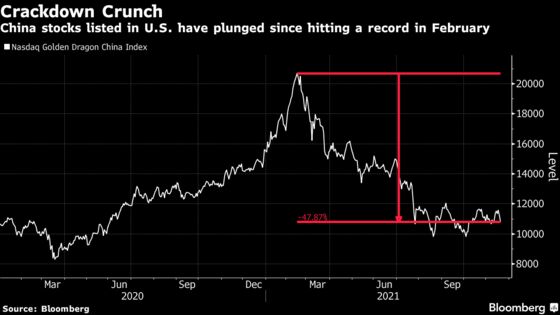 Meanwhile, JD.com Inc. stands as one of the few U.S.-listed Chinese stocks to deliver numbers above expectations. The e-commerce firm jumped 6% on Thursday after announcing its revenue had increased nearly 26% versus last year as investments into newer business areas helped offset the impact from slowing consumer spending.
Some companies that have reported strong results are still getting punished this quarter. American depositary receipts for Baidu Inc. have shed about 4.6% even as the search engine giant announced a 13% jump in sales Wednesday morning.
The selling pressure has also been felt in Hong Kong, with the Hang Seng Tech Index, which tracks China's biggest technology companies, falling 3% on Thursday.
READ: China Tech Shares Slump as Earnings Results Fuel Growth Worry