China Stock Option's 2,800% Surge Shows Rush for Hedges
In China's $7.8 trillion ocean of equities, there are only four options contracts. It's perhaps no wonder then that one of them, introduced just in December, saw extraordinary demand when Chinese markets were roiled by coronavirus fears on Feb. 3.
As trading came back online after an extended holiday, traders rushed into put contracts on the Huatai-Pinebridge CSI 300 exchange-traded fund, which itself is linked to one of the nation's benchmark equity indexes. There was so much demand the contracts soared 2,849% that day. The put contracts jumped again Friday, with several of them rising more than 200%. The CSI 300 Index closed 3.6% lower.
While that speaks to the surge in concern about the hit to earnings and growth from the deadly epidemic, it also reflects the scarcity of hedges in the world's second-biggest stock market. With trading more volatile in recent weeks than any period since just after the epic 2015 bubble and its bursting, investors are calling for regulators to keep expanding the menu of options.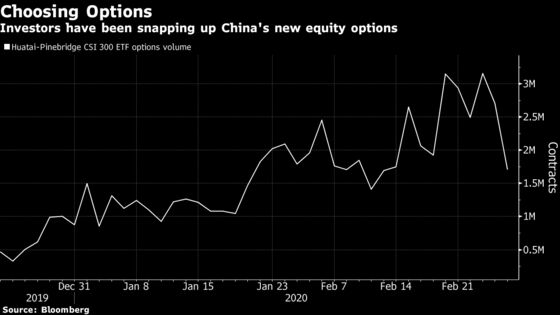 "The roller-coaster stock market performance after the Lunar New Year holiday has sharply increased investor interest in hedging tools," said Lai Zhicun, an analyst at Guodu Futures Co. in Beijing. "I expect more options products related to ETFs or stock indexes to be launched this year, especially when China is actively pushing forward with the opening of the financial sector to foreign investors."
The first options contract to win approval is tied to the China 50 ETF, and dates from 2015. While it also saw big gains on Feb. 3, it's less appealing to traders because it tracks less volatile large-capitalization equities. Options on the Huatai-Pinebridge CSI 300 ETF are most in demand because the price swings tend to be more dramatic, and it represents a greater range of equities, Lai said.
Average daily trading volume of Huatai-Pinebridge CSI 300 ETF contracts was about 2.2 million for the period from Feb. 3 through Feb. 27 -- double that seen before the Lunar New Year break. By contrast, that for China 50 ETF contracts held steady at about 2.5 million, signaling investor enthusiasm had maxed out for those.
Even amid global calls for more hedging devices in China's markets, the nation's regulators have been cautious. For one thing, they are a leveraged product, triggering concerns, according to Cao Yanghui, deputy director of research at Nanhua Futures Co. in Hangzhou. A careful and gradual introduction can provide more room for adaptation and adjustment, she said.
Also, futures and options were blamed for exacerbating the 2015 stock crash, after which no new contracts were approved until December last year. Investors have instead had to rely on proxies such as Hong Kong-listed stocks, exchange-traded funds or structured products -- which are typically harder to trade and more expensive than standard derivatives products.
MSCI Inc. in November cited a dearth of hedging tools and derivatives as among the obstacles in the way of adding more China stocks to its indexes.
Neither the Shanghai and Shenzhen stock exchanges nor the China Securities Regulatory Commission responded to questions about expanding the options market.
Derivatives for other assets have made only halting progress. While China said earlier this month it would let some of its biggest banks trade bond futures for the first time since it relaunched the instruments in 2013, a trial of interest-rate options has been delayed because of the virus outbreak.
Among top priorities among investors: hedging tools for small-cap indexes and for specific stocks, said Wang Chen, a partner at XuFunds Investment Management Co. in Shanghai. "The more options, the better."