China Stocks Climb to Eight-Month High as Trade Optimism Grows
(Bloomberg) -- Chinese stocks rose to their highest level since June as signs of progress in trade talks and the breaking of a key resistance level added to confidence. Shares pared gains in afternoon trading as investors took profit.
The Shanghai Composite Index climbed 1.1 percent at the close, paring a gain of as much as 3.2 percent after smashing through the 3,000 level that had capped gains all last week. About seven stocks rose for each that fell on the gauge. The index has now climbed 23 percent since its Jan. 3 low, helping add some $1.5 trillion in value to China's stock market.
Momentum in China's stock market hasn't been this strong since the peak of the bubble in 2015. The Shanghai Composite's relative-strength index is nearing the highest levels seen that year. Almost all of its 1500-odd members are above their long-term moving averages, showing the rally is also the broadest since 2015. Turnover has surged after falling to near a four-year low in December.
"The market's gone crazy," said Chen Weining, a fund manager at Miyuan Investments in Beijing. "Technical levels are bullish but we need to make sure we don't repeat the mistakes of 2015."
The newfound euphoria is a sharp contrast to the mood that persisted last year, when concern about U.S. tariffs and a slowing economy sent the Shanghai index plunging 25 percent. Since then Chinese authorities have loosened curbs on equity trading imposed in the wake of the 2015 stock market collapse and taken steps to stimulate growth, while improving ties with the U.S. have added to the upbeat tone.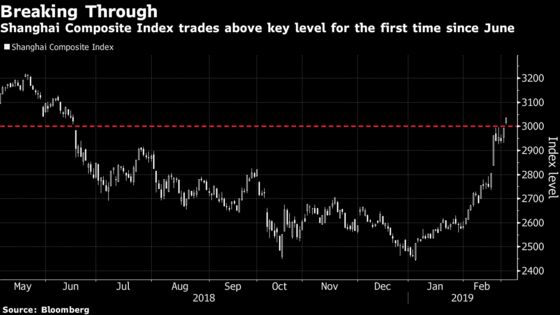 The U.S. and China are close to a trade deal that could end most or all American tariffs, according to two people familiar with the discussions. National People's Congress spokesman Zhang Yesui said substantial progress has been made in the talks. Some 3,000 of the most powerful officials in China are gathering in Beijing for the annual parliamentary meeting, where Premier Li Keqiang will deliver overall growth targets.
"It's unlikely that stocks will continue to see rapid increases in the near term as profit-taking pressure builds up," said Dai Ming, a Shanghai-based fund manager with Hengsheng Asset Management Co. "People will be looking for detailed measures such as tax cuts from the policy meetings, and such policy hopes should put a floor under stock prices too."
The yuan extended its lead over Asian peers this year, strengthening 0.17 percent to 6.6962 per dollar. The currency has jumped 2.7 percent in 2019, the most in the region, after slumping more than 5 percent last year. Bonds were little changed, with the yield on 10-year debt falling less than 1 basis point to 3.2 percent.
The small-cap ChiNext Index jumped 3.3 percent, taking its year-to-date surge to 30 percent. Financials were among the biggest contributors to the Shanghai gauge, while agriculture stocks led gains in Shenzhen.
"We need to see whether this level can be sustained -- that's the most crucial thing," said Ronald Wan, chief executive of Partners Capital International Ltd. "The government definitely wants to sustain the level and for investors, confidence seems to be stronger. But a lot of companies are still facing liquidity issues and they may choose to cash out."
In Hong Kong, the Hang Seng Index climbed 0.8 percent, while a measure of mainland companies traded in the city rose 1 percent.